If you're thinking about becoming a life coach, you probably have your eye on the many life coach certification programs out there. With so many options to choose from, it can be tough to determine which certification is right for you.
The programs that have been gaining popularity lately are Transformation Academy Life Coach Certifications. Offering both a foundational certification as well as over 35 niche certifications, Transformation Academy aims to equip aspiring coaches with the practical knowledge and skills they need.
But are Transformation Academy's certifications worth the investment? In this article, we'll break down everything you need to know about these life coach certification programs, especially Transformation Academy Life Coach reviews from graduates so you can decide if they're the right fit.
Overview of Transformation Academy Life Coach Certifications
Transformation Academy offers three main certification options:
Professional Life Coach Certification: This foundational program covers the basics of life coaching in 25 hours of online, self-paced coursework.
35+ Niche Certifications: From confidence coaching to career development, these niche certifications provide specialized training and complete coaching packages to help coaches get niche-specific results.
Master Coach Certification Bundle: This bundles the foundational certification with three niche certifications of your choice for advanced training.
All programs promise practical, hands-on training from experienced instructors. The certifications are accredited by the Continuing Professional Development Standards Office internationally.
Transformation Academy Life Coach Reviews: A Closer Look
Next, let's take a deeper look at what's included in Transformation Academy's certification options.
Professional Life Coach Certification
The Professional Life Coach Certification covers the fundamentals you need to start an effective coaching practice.
The 100% online course includes 25 hours of educational content you can complete at your own pace. Throughout the interactive videos, you'll learn essential coaching skills like:
The structure of the coaching process
Building rapport through strong communication
Setting meaningful goals
Facilitating lasting change
Teaching time management
Fostering growth mindsets
Motivating clients
According to Transformation Academy Life Coach reviews, coaches appreciate how this foundational program provides actionable techniques you can immediately apply with clients versus just theory. The certification also includes sample forms, exercises, scripts, and more—helpful tools for your coaching toolkit.
Once completed, you'll earn an accredited Professional Life Coach Certification to help establish your credibility.
Niche Life Coach Certifications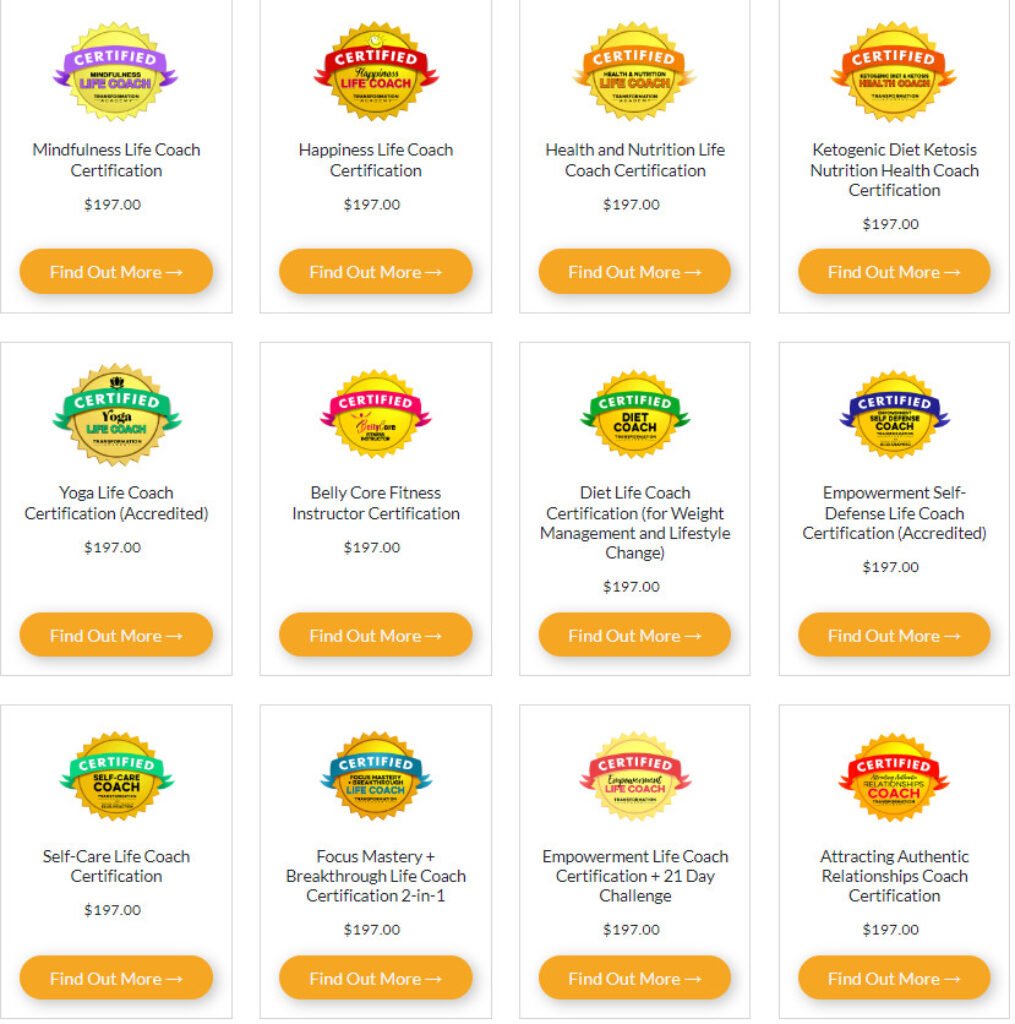 Where Transformation Academy really shines is its selection of highly-tailored niche certifications.
With over 35 topics to choose from, these programs let you gain expertise in specific areas of coaching most relevant to your goals. Niche topics include:
Confidence Coaching
Self-esteem Coaching
Relationship Coaching
Career Development Coaching
Health Coaching
Small Business Coaching
Life Purpose Coaching
And many more!
Every niche certification includes a complete coaching package designed to help you get niche-specific results with clients right away. The bundles provide done-for-you exercises, worksheets, assessments, session plans, and more.
For instance, the Confidence Life Coach Certification arms you with tools to run a 6-week confidence-building program. The Relationship Life Coach Certification gives you resources to facilitate a 10-week relationship transformation.
This robust suite of niche topics really sets Transformation Academy apart, letting you differentiate yourself.
Master Coach Certification Bundle
For coaches seeking advanced training across multiple niches, the Master Coach Certification Bundle combines the foundational certification with three niche certifications of your choice.
The bundle includes:
Professional Life Coach Certification (25 hours)
3 Niche Certifications (75+ hours)
With this stacked certification, you can establish yourself as a well-rounded coach able to help clients across many areas—from cultivating mindfulness to navigating life transitions.
In short, Transformation Academy's certification programs provide aspiring and established coaches alike with accredited, practical training to build up both foundational and niche-specific skills. From the comprehensive Professional Life Coach Certification to the tailored niche certifications and advanced Master Coach bundle, coaches have flexible options to gain expertise in the areas most relevant to their goals.
With abundant coaching resources and support from experienced mentors, Transformation Academy's certifications equip students with the tools to facilitate meaningful change and make a true impact in their clients' lives.
Who Are These Certifications For?
Transformation Academy's certifications are best suited for:
Aspiring coaches looking to gain accredited training, hands-on experience, and professional credibility. The foundational program covers the basics while niche certifications provide specializations.
Existing coaches wanting to expand their skillsets with niche topics or combine niches through the Master Coach bundle.
Individuals transitioning careers into coaching who need to build coaching skills from the ground up. The step-by-step structure caters to newcomers.
Entrepreneurially-minded coaches through the business and entrepreneurship courses included.
Transformation Academy Life Coach reviews reveal that the interactive format also appeals to self-driven learners who prefer online delivery. With self-paced courses, you can learn on your schedule.
Transformation Academy Life Coach Reviews: What Students Have to Say
What do past students have to say about their experience with Transformation Academy's certifications? Here's a sample of the most typical Transformation Academy Life Coach reviews:
"The Confidence Life Coach Certification completely exceeded my expectations. The specific tools and framework gave me the confidence I needed to successfully coach clients through building self-esteem." – Sarah L., Confidence Life Coach Graduate
"I appreciate how Transformation Academy focuses on practical training versus just theory. I walked away with skills I could immediately apply in working with clients to facilitate meaningful growth." – James T., Professional Life Coach Graduate
"As an experienced coach, I chose the Master Coach Certification to expand my skills across niches like life transitions and mindfulness. The bundle gave me the advanced training I needed to meet a wider range of client needs." – Lisa R., Master Coach Graduate
The in-depth coursework, experienced instructors, and stellar Transformation Academy Life Coach reviews are why outlets like Life Coach Magazine applaud Transformation Academy for quality training.
Read more: Transformation Academy Review: A Thorough Look at This Life Coaching Certification Program
Pros and Cons of Transformation Academy Certifications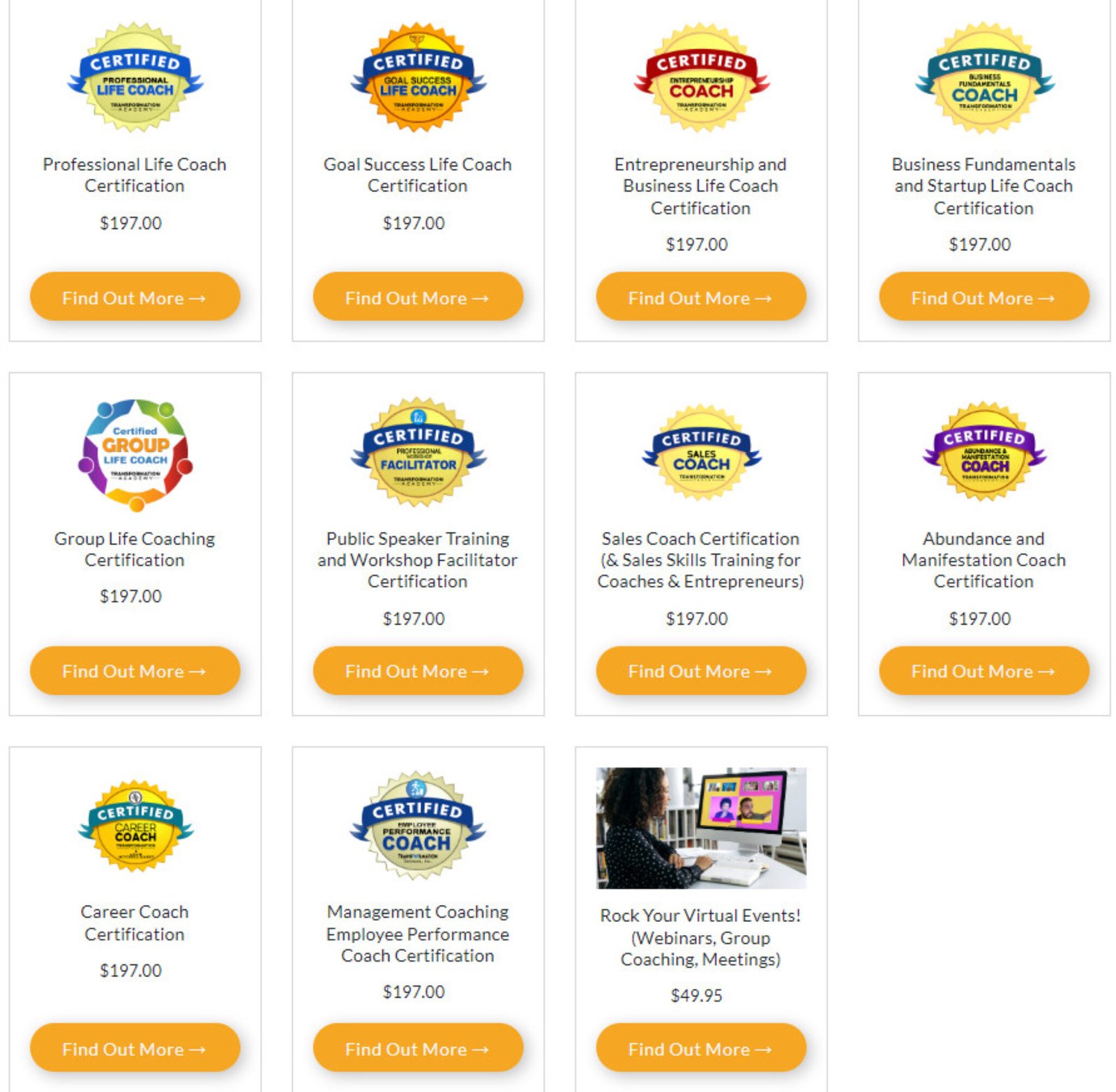 Based on our research, here are the key pros and cons of Transformation Academy's certification programs:
Pros
Comprehensive training across fundamentals and popular niches
Hands-on focus with actionable coaching tools provided
Experienced instructors mentor students
Flexible self-paced online format
Internationally accredited certifications
Money-back guarantee within 30 days
Cons
The self-study format lacks accountability some need
Not the most budget-friendly programs out there
Coaching niche options could be expanded
So are the programs worth it? For the right students, the positives seem to outweigh the negatives. The learning space delivers thorough, effective training according to most Transformation Academy Life Coach reviews.
Final Recommendation: Are Transformation Academy's Certifications Worth It?
Based on our extensive research, we highly recommend them to the right students.
They offer an especially smart choice if you're seeking:
Specialized training in popular coaching niches
Mentorship from experienced instructors
Globally-recognized accreditation
Abundant coaching tools and resources
The comprehensive bundles remove the guesswork of building coaching skills from scratch.
Before enrolling, you can read more Transformation Academy Life Coach reviews online from graduates and be sure you can commit to self-paced learning and have funds for the $197+ price tag. Also, explore other accredited options, but Transformation Academy stacks up well.
To learn more, head to their website at store.transformationacademy.com, and don't forget to use these exclusive coupon codes. Investing in quality training is the surest path to coaching success.