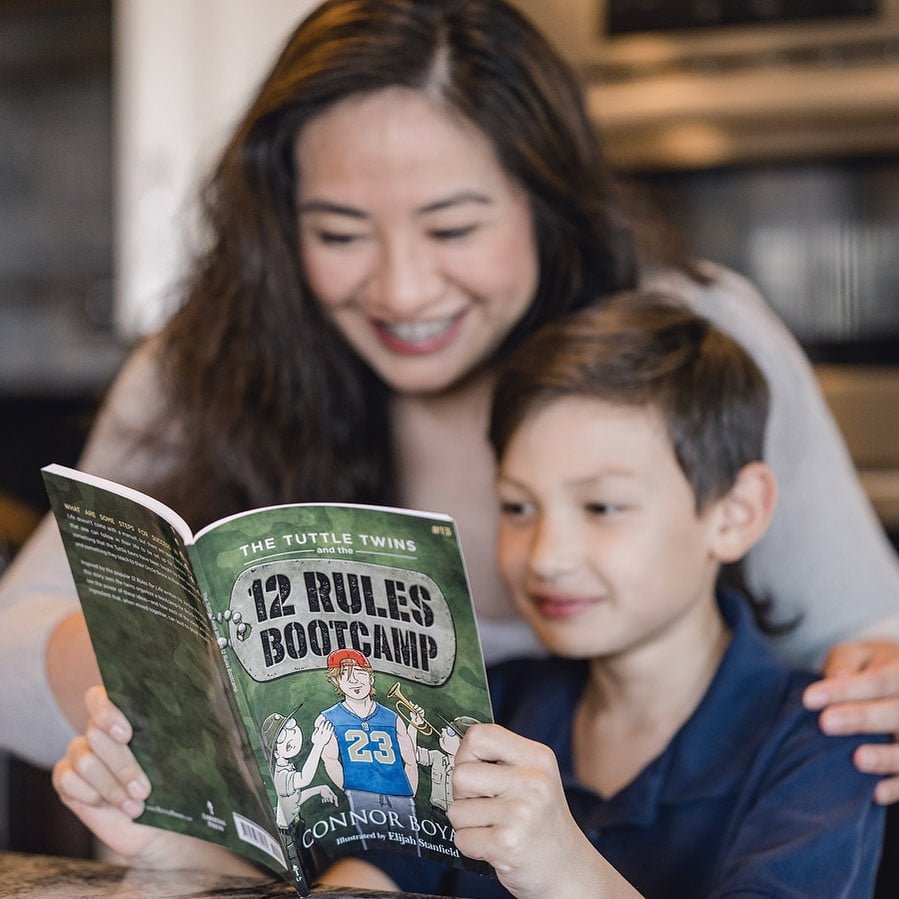 If your 7-year-old kid asked about liberty, how would you explain? Should your children worry about politics? Are your kids being taught the right political values in school? The Tuttle Twins Reviews from parents, however, will address those problems.
About The Tuttle Twins Book
Connor Boyack's children, the twins Ethan and Emily, are the central characters of his book series.
Each picture book has roughly 60 pages. The books aim to make economic concepts easy enough for kids to understand. The majority of books are derived from larger works by other authors or economists.
The series consists of 13 books to date.
What Makes The Tuttle Twins Books Unique?
There are important concepts that are never taught in schools. But the author felt the responsibility to let children have a basic understanding of how the world really works. That is how the books were written.
No other children's book writes on a wide range of free-market topics in such an exciting way. The books go over crucial freedom-based ideas that most of us did not learn as kids. But it's not too late yet!
Children are encouraged to learn "adult" concepts through the Tuttle Twins books, which they find enjoyable. These publications provide clear explanations of those concepts along with helpful visuals. It's highly likely that you will be amazed at how well your children acquire this knowledge.
It's clear from many reviews of The Tuttle Twins, these thought-provoking books inspire children to make sense of the world.
Their books are meant to generate wonderful discussions with your kids about the principles that formed our wonderful nation but are currently under attack.
The truth is, for far too long, parents have lacked the words to discuss these subjects with their kids. Not any longer, though. The Tuttle Twins books have been addressing this problem.
And The Tuttle Twins Reviews in this article will contribute to that help.
Top 13 Things Schools Never Teach Your Children
There are real and important things that no one will teach your kids in school. While knowing about these early will strongly develop children's critical thinking skills and the sense of responsibility for themselves and for surrounding people.
Fortunately, The Tuttle Twins Books reveal these top 13 important things to your children.
#1. Why a free market economy is the most efficient way to end poverty and encourage trade among people.
#2. How having property rights helps us to make the greatest choices for ourselves and our family.
#3. Why does the world become better because of entrepreneurs who create businesses to help us serve and enrich our lives?
#4. Socialism and reasons it is dangerous to our freedom and general well-being.
#5. How important it is to live by the Golden Rule for everyone to get along, no matter where they live, what they look like, or what they believe.
#6. Why education is vital, and why kids should be allowed to pursue interests of their own.
#7. What individual rights are, and how true laws protect them from wrongdoers.
#8. How money works and how they can protect the money they make in their family business.
#9. What protectionism is and the laws that establish protectionism and unfair advantages.
#10. The difference between persuasion and coercion, and how we can live peacefully in order to create a better society.
#11. The issues of collectivism and centralized planning.
#12. Why we behave as we do and what we should about risks, bailouts, subsidies, and what happens when the market gets messed up.
#13. We become easy prey for despots who seek to rule us because of our ignorance.
Those things seem to be really difficult knowledge for children to digest, and there exists The Tuttle Twins controversy surrounding that. However, the author tells fascinating stories throughout the book series that are easy for kids to understand, according to lots of The Tuttle Twins Reviews from parents around the world.
The Tuttle Twins Reviews: What are parents' opinions?
With 13 books in The Tuttle Twins book series, make sure to read all The Tuttle Twins Reviews from parents to decide if you should buy them for your kids.
"My daughter loves learning about government and has been curious about it for a while now, I learned about these books from an epoch times article and am so glad I ordered a few. It sparked some great conversation between my daughter about how much more satisfying life is when you are working for your own money and not handing it all over to the government!!
Thank you for writing books about the dangers of big government in a way that is easy for children to comprehend, because it is important to teach them about the things we have been programmed not to care about. I also very much appreciate that God is in the book, our country was founded upon by men of God and I think it's important to understand that to fully comprehend our government." – Emily
"Teaching these principles is more important now than ever and I am thrilled to offer a book club so kids can learn together. The activity pages that coincide with each book are absolutely amazing, so high quality and very creative. Tuttle Twins makes it possible to teach these concepts without being experts ourselves. What a gift given to all ages and generations of our time." – Valerie
"My 6-year-old insists that this book gives her good dreams- only this book! I am happy to find books that teach good values that don't suck." – Michele Ferrante
"I really enjoy these books, I am homeschooling both my kids ages 15 and 11 and these fit nicely into our activities. It helps to cover civics, history, economics, and reading comprehension. Each book has discussion questions at the end and a glossary of terms. There is a religious tone, and we are not religious but we can reword and also discuss judeo-christian values Overall the book series is excellent and can be a great addition for homeschooling or fun evening reading. I highly recommend it" – Olga M Mardach
"I purchased the full set from their direct website. I found the read to be very engaging for my 6-year-old, who asked questions and had some great dialogue about what she learned. My 3 and 4-year-olds also listen to me read and it seems to keep their attention. I would recommend the full set. I use them for homeschooling and highlight these when doing social studies." – TF_ rndz
"Okay, I'm going to sound like I sell these books personally lol.
I won them in a giveaway and I'm in love!
I keep recommending them to others.
Learn about right and wrong while seeing that just because a higher authority does something doesn't make it right.
Even if you're an adult and want to learn more about politics I think these books are a great start.
I would highly recommend buying the activity workbook with it." – Cam & Kay
"While I've read the negative reviews, I can say as a business owner that this raises awareness of the plethora of steps and sub-products that are necessary for a consumer-ready item or service. After my 8y/o read this, she has been pointing out many complex items that are like the "pencil" in the book e.g., car tires, LCD TVs, school notebooks, restaurant tables, stuffed animals, and many, many others. This is a good learning tool for children as well as adults who do not know how much actually goes into the goods and services they purchase." – Jon Graef
Are The Tuttle Twins Books Worth Buying?
At the back of each book are four to six questions for discussion and a glossary. Parents must choose the question that is most appropriate for their children because some of them get into concepts that younger kids may not be ready to discuss.
Parents should also read these books with children. The actual lessons from these will be revealed in the debates that follow.
In the end, it is not real knowledge about the real world, but the discussion aspect after reading the books, that makes them valuable. Do your kids agree with the author's opinions? It could be the best and most unique way to practice their critical thinking skills.
After reading The Tuttle Twins reviews, now you might have your decision. Also, you can always enjoy the best discount code to save your money with The Tuttle Twins.