Terra Flame Clean Burning Fire Gel: The Comprehensive Guide You Need
It's crucial to pick the appropriate fuel for your gel fuel fire pit. The best gel fire pit fuel is non-toxic and clean burning that won't emit a lot of smoke. Fire gel comes in a variety of sizes and formulations, in which Terra Flame clean burning fire gel is one of the most popular gel fuels available. This is a comprehensive guide on using gel fuel and customer feedback on Terra Flame's product.
What Is Fire Gel?
Fire gel, also known as a gel burner or gel fuel, is a mixture of clean-burning alcohols – ethanol and propanol. To thicken the alcohol and create a brighter, yellow flame, flame brighteners, and gelling agents are added to the alcohol mixture.
Where Can I Use Fire Gel?
Fire gel in general, and Terra Flame clean burning fire gel in particular, can be used either indoors or outdoors.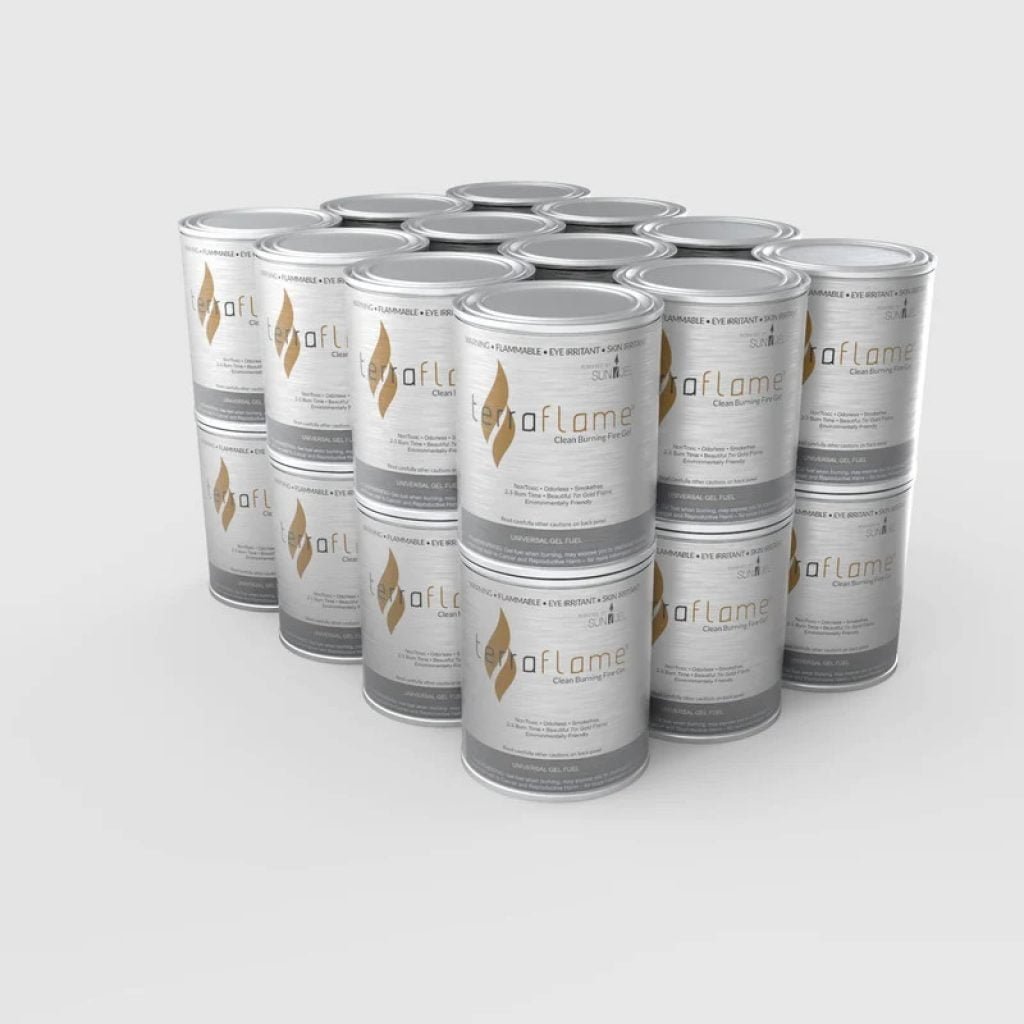 Indoors
Although quality fire gel is completely safe to use indoors, you need to make sure that your fire pit is placed on a stable, solid surface where it can't be affected by any major knocks. It should be placed out of the reach of children and pets and away from flammable materials like curtains and sofas.
Outdoors
Although fire gel will burn successfully in breezy conditions, the flame may not burn as high or as efficiently. It is recommended that the fire pit is placed in a more sheltered space where the flame can reach its fullest height.
How I Can Use Fire Gel?
Remove the can's paper label, pry open the lid, and position the can where it will burn the fire gel most efficiently in the fireplace. After that, lighting the gel with a match or a lighter will be easy.
Most fireplaces allow for the simultaneous burning of up to three cans. To put out the flame, carefully place the can's lid over it. Cans can be closed and saved for later use. Like other gel fuels, Terra Flame clean burning fire gel is as easy to use as that.
You might be interested: Modern Blaze Reviews And 5 Great Advantages of Ventless Fireplaces
Does Fire Gel Create a Good Ambiance?
The slow-burning, realistic flame that gel fireplaces create, which burns in the same colors of red, yellow, and orange as the flames of a wood fireplace, is one of their main advantages. Some fire gel canisters contain additives created from a range of organic materials to give you the familiar crackling and spitting of burning wood while all fire gel canisters have an odorless isopropyl alcohol basis. Terra Flame clean burning fire gel has both of these types.
Fire gel flames can easily imitate the calming and romantic sights and sounds of a classic wood-burning fireplace when using these particular fuel canisters. This is what Terra Flame clean burning fire gel does really well. The fact that they don't smell the same as a wood fire is not a bad thing, since the clean-burning gel fuel is better for the environment and your lungs than the traditional "campfire scent," which comes from inhaling chemicals and particulates that aren't really healthy for you.
Will Fire Gel Make My Ceiling Black If Used Indoors?
Fire gel burns with no smoke or odor. Therefore, using a fire gel unit indoors will not generate the black smoke marks like by the majority of candles create.
Terra Flame Clean Burning Fire Gel: What have people said?
Terra Flame clean burning fire gel is among the top gel fuels on the market. Let's have a look at the most common customer feedback on these products.
Crackles like a wood fire

Cleaner than a wood fire and sounds like one unlike a gas flame. Lasts for hours and can be extinguished and re-lit. Low odor.
So happy

I love it! Sets the perfect ambiance. Can use indoor/outdoor…. Make S'mores…🤤 it's a purchase I will never regret … and if you have a membership for the fuel you'll never run out!
Perfect!

Easy to use and produced a perfect flame complete with a little crackling sound. Great for the poolside fire bowls.
Happy customer

Quick delivery and in good condition. I buy Terra Flame clean burning fire gel every year because of the great service and reasonable price.
Excellent Product

Love terra flame. The crackling sound and the bright flames are great. Will definitely buy again.
We should mention that the Terra Flame gel fuel 4 pack is not available now. There are three options 6, 12, and 24 packs.
Conclusion
Overall, using fire gel is risk-free, but, as with any fireplace with a real flame, improper usage of a gel fuel fireplace can be dangerous. Avoid using outdoor fireplaces when there are strong winds blowing or in locations where it may rain or snow. Keep a fire extinguisher close by and never leave a fire unattended.
We hope our complete guide on Terra Flame clean burning fire gel along with special discount codes from Terra Flame will be of great help.