Modern Blaze Reviews And 5 Great Advantages of Ventless Fireplaces
One of the main advantages of choosing a ventless fireplace is that it is 99% efficient, in addition to the fact that squirrels won't get stuck in your chimney.
All of the heat produced by your ventless fireplace goes directly into the room rather than up the chimney because no flue or vent is required.
Ventless fireplaces have a far greater efficiency rate than vented units, which only reach 70-85%, claims the Patio and Hearth Association.
This article of Modern Blaze reviews shows you 5 great advantages of ventless fireplaces as well as customer feedback on Modern Blaze, a prominent provider of premium ventless fireplaces.
5 Great Advantages of Ventless Fireplaces
Easy Installation
Buying a ventless fireplace also saves you from cutting into the wall. Comparing ventless fireplaces to conventional gas or wood fireplaces, the former is far less expensive and easier to install.
You can save time, trouble, and money by not cutting into the wall or the roof to install. You can put an electric or propane fireplace anyplace if you choose that option.
No Wood Storage
Those who have experience with wood storage absolutely know the countless related problems.
No wood, no sweat, no bugs, simply convenient warmth with a ventless fireplace when you need it.
No Messy Clean Up or Starting of Fire
There is no need to gather newspaper and kindling into a bundle, adjust the airflow, or even light a match because a ventless fireplace will be powered by electricity, propane, or natural gas.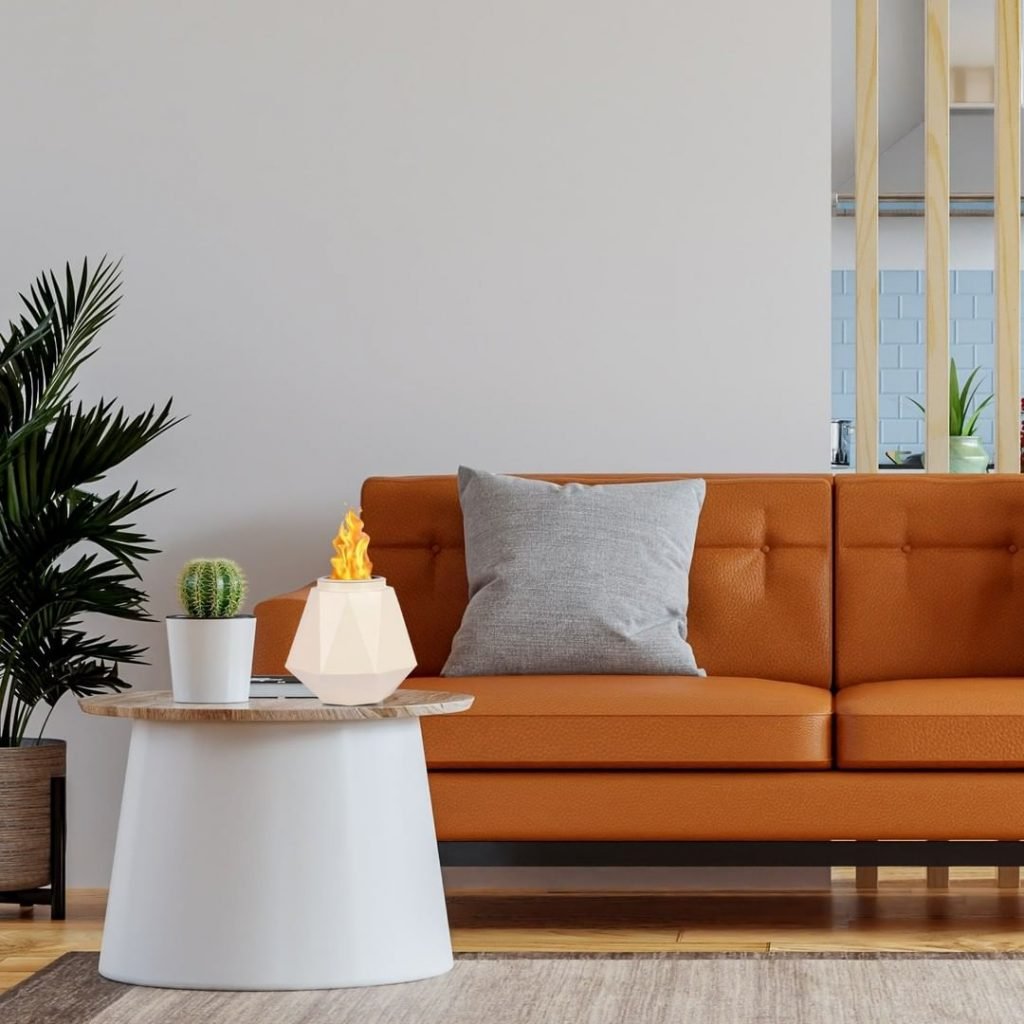 All you have to do is turn it on. There are no fumes, smoke, or unpleasant cleanups.
Supplemental Heat
By using supplemental heating to warm only the area you're in rather than the entire house, which wastes energy, ventless fireplaces reduce energy costs.
Ventless Fireplaces Create Moisture
The extra moisture will be very helpful if your home is dry in the winter.
Within 24 hours of using a 28,000 Btu natural gas heater, up to 4.8 gallons of water could be created in the air. You might want to take that extra moisture into account if you reside in a more humid climate.
Modern Blaze Reviews: Why A Modern Blaze Ventless Fireplace is the best option
Overview of Modern Blaze Fireplace
Aaron and Anastasia Vankova founded Modern Blaze in 2014 with the goal of making every house feel more like home, a focus on urban, minimalistic design, and a pleasant online buying experience.
The company, which is still family-owned today, has teamed up with some of the greatest heating manufacturers to provide a wide selection of premium ventless fireplace options at competitive pricing.
Despite having such a large collection, Modern Blaze is providing excellent customer service, knowledgeable guidance, and simple-to-use tool resources like the Fireplace Finder Quiz to help people find their suitable units. This is demonstrated by numerous Modern Blaze reviews.
Modern, environmentally friendly fireplaces and heating options are a great alternative to conventional wood or gas fireplaces because they never require pricey upgrades or ongoing maintenance, making them the best option for any house.
You might be interested: Proud Pyro Tower Review: Is It Really Worth The Price?
Modern Blaze Reviews: Who Is It For?
You'll read more about Modern Blaze fireplace reviews later on. But what makes this business unique, and is it the right choice for you? Are their indoor or outdoor heating options suitable for your home space?
To begin with, Modern Blaze acts as a marketplace for some of the leading companies in the heating and fireplace sector. There is something for everyone, from contractors and architects to homeowners and do-it-yourselfers, from fashionable electric fireplaces to outdoor patio heaters.
Additionally, the design of each option is appreciated for being both practical and beautiful. With Modern Blaze fireplaces, you can keep both your comfort and the aesthetic appeal of your room.
Naturally, the units work best for heating a place. This is unarguable. Therefore, go no further than Modern Blaze if you have a chilly basement that might use some cozy vibes or a patio area lacking a coffee table that doubles as a firepit.
Modern Blaze Reviews: What Have People Said?
When it comes to heating indoor or outdoor spaces, Modern Blaze provides a variety of solutions. They look amazing in any house or yard setting and are simple to install and run. There are lots of options for sizes and styles. These are the most common Modern Blaze reviews we read on all platforms.
The cabinet is a must-have!

This cabinet is a BEAUTIFUL custom looking addition to the fireplace. For sizing reference, We purchased the 56" three sided fireplace and the TV mounted above is 86". So glad we purchased the cabinet in addition to the fireplace. Modern Blaze was so helpful and we couldn't be happier with how our project turned out.
Great product at a great price

We paired this heater with an Infratech duplex stacked switch, and it works very nicely. The heater has excellent heat output without the "orange glow" of our older infrared heater. The elements heat up quickly. The heater was easy to mount on the ceiling with the included hardware. The installation video provided by the manufacturer on YouTube is very helpful if you get stuck.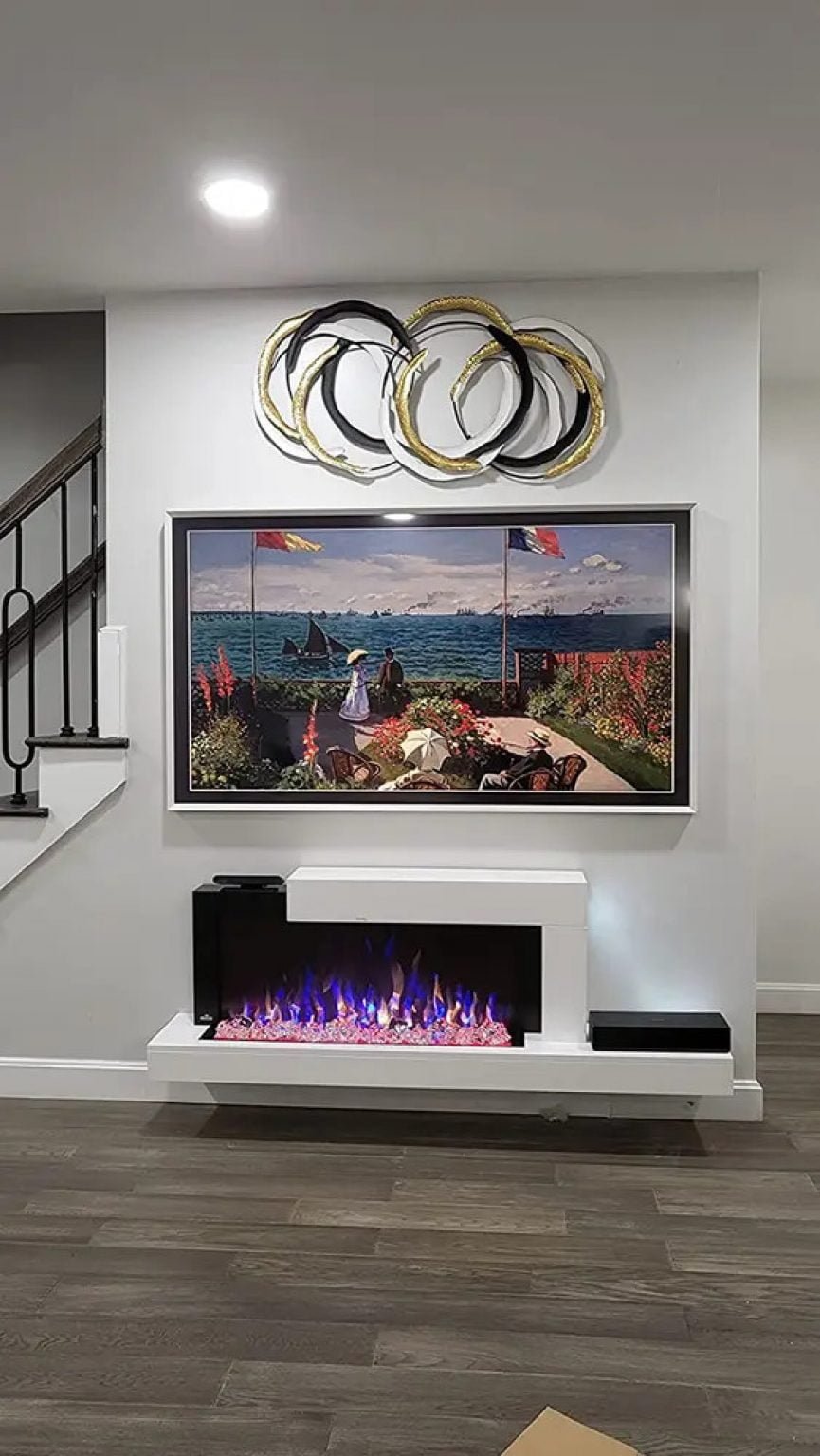 Beautiful piece

Very beautiful, contemporary and good quality piece. Totally worth the money spent. We are using it as a replacement of tv stand.
Superb in every way!

The shopping experience at Modern Blaze has been excellent. They really take great care of customers. I had questions which were answered and needed a change after the order was placed. All took place without a hitch and with much courtesy! The burner! Oh boy, the burner! The Warming Trends Crossfire lives up to the hype! This thing puts out heat! Wow, extremely impressive. The flame is beautiful and the overall build quality is simply excellent. So glad I went with the best and got this burner!
Great product

Pretty good, big enough, exceeded my expectations!
Surprisingly beautiful.

I spent months scouring the internet for recessed LED fireplaces. My wife and I designed and redesigned the space several times each time we thought we found the right unit. Then we stumbled upon the Sideline Elite. Our space only allowed for a 42" fireplace, so the Sideline Elite's thin bezel and wide glass maximized the amount of visible fire effects we would have and fit perfectly into our design. The quality of the unit is outstanding. The fit and finish are top notch as expected from Touchstone. We ordered online and it was delivered within days with excellent communication. Highly recommended.
Conclusion
On a chilly winter night, everyone appreciates a cozy fire, and what better way to do it than having to constantly buy wood for it?
A ventless fireplace looks great, fits in any house, and performs at an exceptional level.
Ventless fireplaces are practical, affordable alternatives to typical fireplaces that make homeowners free from energy costs.
We hope the glowing Modern Blaze reviews above and the best Modern Blaze discount code here will be of great help.