Impact Mouthguards Instructions: How to Take Impressions, Ship Molds, and Use Your Custom Mouthguard
Impact Mouthguards offers custom-made athletic mouthguards designed to protect your pearly whites. But to get the perfect fit, you need to take dental impressions at home and ship them to the lab for processing.
Our Impact Mouthguards instructions will walk you step-by-step through creating impressions, shipping molds, and properly using your finished custom mouthguard. Follow our tips for a comfortable, protective guard that fits your unique smile.
With our guidance, you can ensure that your mouthguard fits comfortably and provides optimal protection for your teeth during sports or while sleeping.
Overview of Impact Mouthguards
Impact Mouthguards provides customized mouthguards for contact sports and teeth grinding. Their guards come in three main styles – CustomFIT, QuickFIT, and PowerLIFT. CustomFIT offers a true custom mold from your dental impressions.
QuickFIT uses pre-formed shells fitted using bite registration. PowerLIFT has a specialized design to protect teeth and jaws during powerlifting.
In addition to athletic mouthguards, Impact also offers dental night guards and orthodontic retainers. All their products aim to provide protection and comfort at an affordable direct-to-consumer price.
With a focus on protection, comfort, and affordability, be sure to follow the Impact Mouthguards instructions when ordering your custom dental guard.
Read more: Impact Mouthguards Review: Custom Protection Worth Investing In?
Why Wear a Custom Mouthguard?
Mouthguards provide important protection for your teeth, gums, lips, and jaw during sports and other active pursuits. Here's why they are so vital:
Prevent dental injuries from impacts, collisions, and blows. Mouthguards cushion your teeth, reducing the chance of fractures, chips, knockouts, and other damage.
Protect against traumatic brain injuries. Mouthguards help prevent concussions by absorbing jaw impact before it transfers to the head and brain.
Custom fit. An accurately molded mouthguard stays put, moves with your mouth, and provides better shock absorption.
Recommended by dental experts for nearly all contact sports – football, hockey, MMA, boxing, lacrosse, skateboarding, and more.
Save money on dental bills. Mouthguard damage is far cheaper to repair than permanent tooth damage requiring crowns, implants, or bridges.
With so many vital protective benefits, be sure to follow Impact Mouthguards instructions to get a custom athletic mouthguard that fits your teeth perfectly.
Taking Dental Impressions for Your Custom Mouthguard
Creating accurate impressions is crucial for getting a comfortable, protective custom athletic mouthguard. Here's how to take dental molds properly at home with these Impact Mouthguards instructions:
Gather Your Impression Kit
Impact Mouthguards ships impression kits with everything you need:
Putty – The pliable material that holds the imprint of your teeth.
Trays – Holds the putty as you bite down to make impressions.
Instructions – Step-by-step directions for taking impressions.
You may also want:
Small mirror to see inside your mouth while taking impressions.
Flashlight for better visibility.
Cotton swabs to clean teeth before imprinting.
Scissors to trim excess putty.
Mix the Putty
The putty comes in two tubes that must be thoroughly kneaded together before use. Knead the putty until it turns a uniform color with no streaks.
If the putty feels too thin or sticky, let it sit for 2-3 minutes until it thickens. The putty should feel doughy and hold its shape when rolled into a ball.
Load the Trays
Roll putty into a thick rope shape.
Press putty firmly into the trays, spreading it evenly.
Ensure putty fills every part of the tray and covers all teeth.
Take the Impressions
Center the loaded tray over your teeth and insert fully into your mouth.
Have the putty overlap 2-3 mm onto your gums for the most accurate mold.
Bite down firmly until the tray stops descending. Do not bite through the putty.
Maintain equal pressure as the putty sets – usually 2-5 minutes.
Carefully remove the tray by rocking it side-to-side as you pull straight up and out.
Perfect Your Molds
Examine impressions closely and redo any with defects, gaps, distortions, or unclear tooth marks.
Rinse with cold water and allow impressions to fully cure for 24 hours before shipping.
Store cured impressions in an airtight container until ready to ship.
Carefully follow each step of the Impact Mouthguards instructions to create accurate at-home dental impressions that capture every detail of your teeth for a perfectly fitted custom mouthguard.
Tips for Flawless Impressions
Follow these tips from our dental professionals for impressions that precisely match your teeth:
Clean teeth thoroughly – Food and plaque residues can ruin impression accuracy. Brush and floss before imprinting.
Dry teeth – Water and saliva prevent putty from adhering and capturing precise detail. Blot teeth dry with cotton pads before inserting trays.
Mind your gag reflex – Repeated impressions can make some gag. Go slow, breathe through your nose, and take breaks as needed.
Use a mirror – Watch the trays enter your mouth properly positioned over all teeth needing protection.
Don't rush – Work methodically and follow all directions precisely. Rushing leads to mistakes.
Bite firmly and steadily – Uneven biting pressure results in distorted molds. Maintain constant force until putty fully sets.
Review impressions – Closely inspect for defects and immediately redo any problem molds.
When following these Impact Mouthguards instructions, you can get accurate impressions that ensure your custom mouthguard fits perfectly and provides optimal protection. Take your time and get it right the first time.
Shipping Completed Impressions to Impact Mouthguards
Once your impressions fully cure, you're ready to ship them to Impact Mouthguards for molding:
Package Impressions Securely
Place impressions back in original container or sealable plastic bag.
Cushion with tissue paper to prevent damage in transit.
Tape bag closed or tightly seal original kit box.
Include Order Details
Write your name, order #, and contact info on a slip of paper.
Include slip inside shipping package or tape to the outside.
Use the Prepaid Shipping Label
Impact includes a prepaid UPS Ground return label with impression kits.
Affix label securely to package.
Ship Impressions ASAP
Drop package at any UPS facility or schedule a free pickup.
Ship impressions immediately after taking for fastest processing.
Expect 14 Business Day Processing
Once received, expect 2-3 weeks for Impact to craft and ship your finished custom mouthguard.
Rush processing available for an additional fee.
These Impact Mouthguards instructions on proper packaging protects your impressions during shipping. Use the prepaid label for fast, free return to the company.
Fitting and Using Your Custom Athletic Mouthguard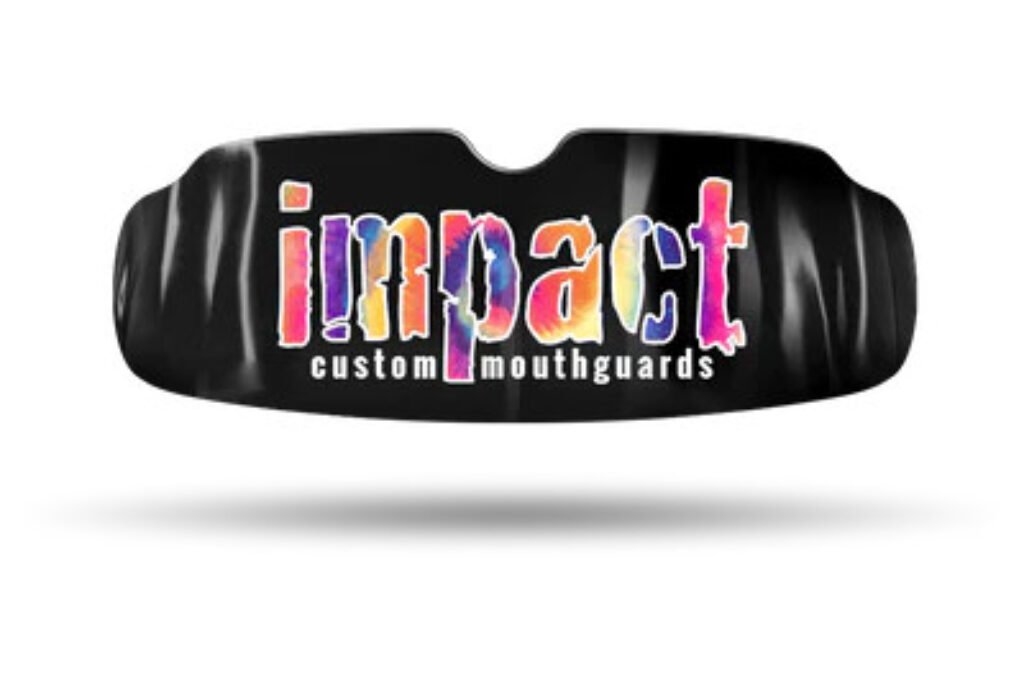 When your new mouthguard arrives, follow these tips for ideal fit and usage:
Mold the Mouthguard
Custom mouthguards come slightly oversized. Mold it to your teeth for a perfect fit:
Boil a pot of water on the stove.
Immerse the mouthguard 2-3 minutes until pliable.
Remove with tongs and shake off excess water.
Quickly insert in your mouth and bite down firmly until cooled.
Test the Fit
Bite down and move your jaw fully side-to-side and front-to-back.
The mouthguard should remain firmly in place with no slipping.
If needed, reboil and refine the fit for total comfort.
Clean After Each Use
Brush with soft toothbrush and mild antibacterial soap.
Rinse thoroughly to remove all soap residue.
Allow to air dry completely before storing.
Store Properly Between Uses
Keep your mouthguard in a hard protective case when not in use.
Never wrap hot or damp guards in plastic, which causes mold and odors.
Replace Every 1-2 Years
Inspect often for cracks, tears, and missing chunks indicating a need for replacement.
Jaw growth or dental work also necessitates a new custom mold.
Following these Impact Mouthguards instructions on proper care, your athletic mouthguard should provide years of dental protection. Replace immediately if damage or poor fit occurs.
Impact Mouthguards Instructions: Final Words
Custom mouthguards provide maximum protection, comfort, and fit – but only with accurate at-home impressions. Carefully follow our Impact Mouthguards instructions for flawless impressions, smooth shipping, and ideal mouthguard use. Enjoy peace of mind knowing your teeth are safe from harm.
For more guidance choosing the best mouthguard for your sport, visit ImpactMouthguards.com. Use our exclusive promo codes to get the best prices for your custom guard orders. With Impact Mouthguards and our tips, you can teeth your teeth right while biting down on the competition.