ES Lightsabers: A Guide to Customizable Combat Sabers for Dueling and Collecting
For Star Wars fans, few collectibles or costume pieces bring more excitement than a lightsaber. These elegant energy swords are synonymous with the Jedi and Sith, making them highly sought after by fans. But not all lightsabers are created equal. For those seeking combat-ready sabers built for dueling, ES Lightsabers stand out as a top option.
Their lightsabers are designed and sold by ES Sabers, a company that specializes in full contact combat sabers. They offer a variety of models and ample customization options, so you can create a lightsaber truly unique to you. In this guide, we'll explore the key features of ES Lightsabers, pros and cons to consider, and provide tips for selecting the right model to suit your needs.
Overview of ES Lightsaber Models
ES Sabers has become a go-to brand for combat sabers thanks to their diverse lineup. They offer a variety of models inspired by famous sabers in the Star Wars universe, as well as original designs made for dueling.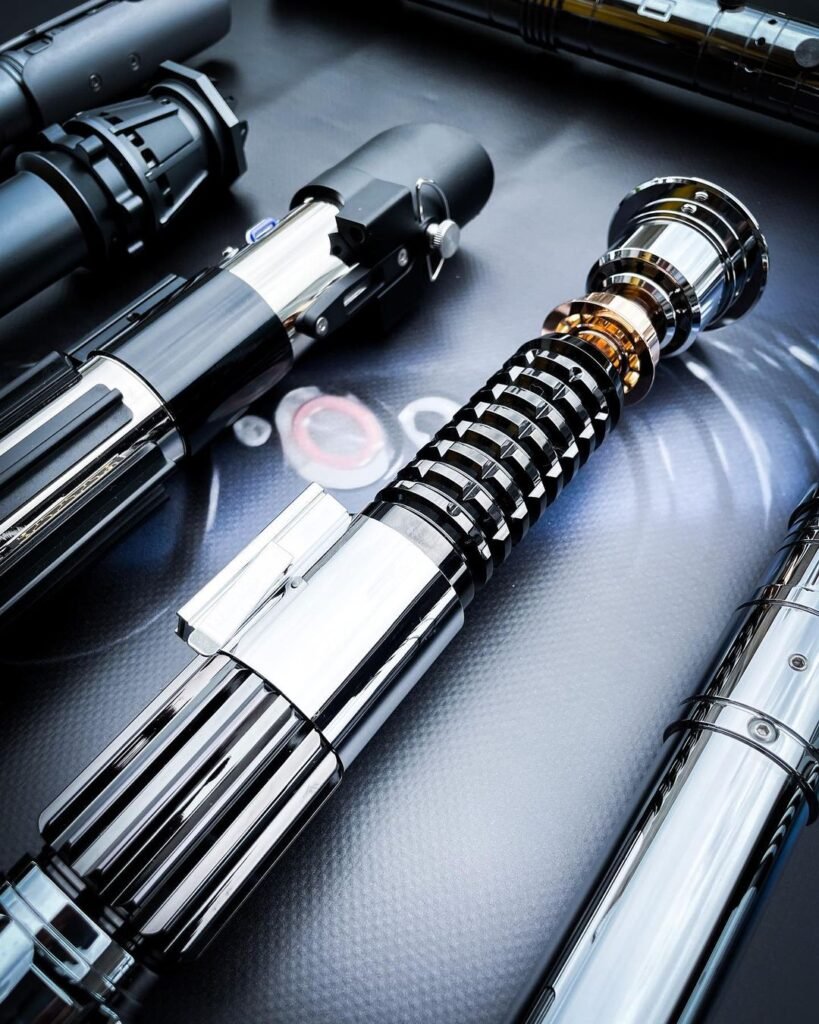 Some of their most popular models include:
Scora – An original combat saber design.
Praxeum – Another original dueling saber design.
Flakka – A dueling-focused combat saber.
Aetan – A combat saber designed for enhanced grip.
Obi-Wan Kenobi – A replica of Obi-Wan's iconic lightsaber.
Luke Skywalker – Luke's saber replica.
The wide range of ES models allows customers to choose a lightsaber suited to their preferences and needs. For cosplayers, the Obi-Wan and Luke replicas deliver authentic looks straight from the films. Duelists can opt for original designs like the Scora optimized for contact sword fighting. Collectors find appeal in the unique etched or weathered options.
Personalize with Customization Options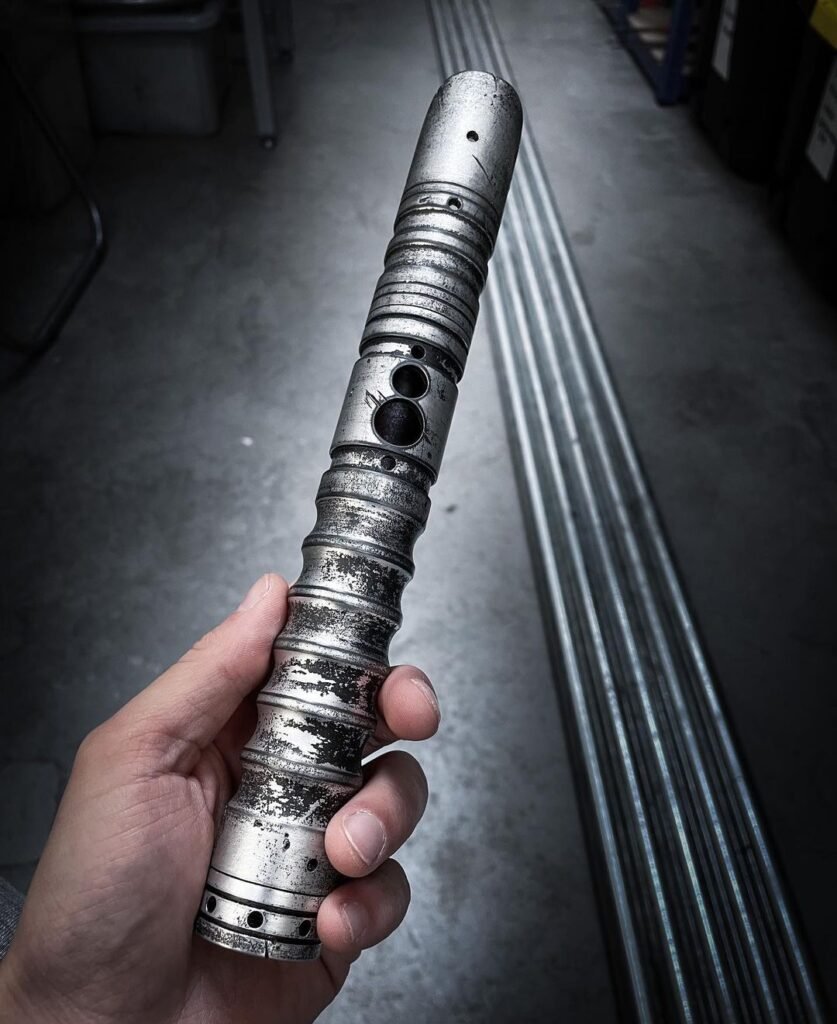 A key selling point of ES Lightsabers is the deep customization available. Every saber can be transformed into your own via:
Hilt Etching – Choose from preset designs or create your own to be engraved onto the lightsaber hilt.
Weathering – Add worn or rusted effects to make your saber look battle-tested and aged.
Battle Scarring – Simulate combat damage like cuts and scrapes for a more rugged look.
Customers love the ability to etch personal symbols, names, and more onto their ES sabers. One reviewer said, "The etching I designed came out perfect. Now my lightsaber truly feels one of a kind."
All ES models also feature changeable blade colors via built-in LEDs. With the press of a button, you can cycle through colors and stop on the hue you want. This color cycling adds fun and variability to dueling or cosplay.
Read on: ES Sabers Review: Are They Quality Combat Sabers for Star Wars Fans?
Durable Construction for Combat Dueling
Unlike many costume or prop sabers, ES Lightsabers are engineered for full-contact combat between duelists. Their durable construction makes them perfect for intense back-and-forth training or competitive sparring matches.
The hilts are designed to withstand repeated impacts from dueling. While the exact materials are not specified, the sabers are made to last through vigorous combat use.
The blades are likely made from polycarbonate based on typical materials used in combat sabers. Polycarbonate can resist cracking or shattering even when hit with great force.
The sabers contain advanced electronics to activate the LED lights and sound effects consistently even with rough handling. Systems are sealed to prevent moisture and dust damage.
Overall, ES Lightsabers are constructed to endure the demanding conditions of live-action dueling. This gives them a key advantage over decorative props for enthusiasts who want to not just display their saber, but also activate it in battle.
Additional Features and Benefits
Beyond customization and durability, ES Lightsabers shine for a few other notable benefits:
Sound fonts – ES Sabers has partnered with Syndicate Custom Relics to offer over 40 downloadable sound fonts that can be installed on various soundboards like Proffie and CFX. The immersive sounds make dueling or cosplay come alive.
Shipping – Orders are processed and shipped as soon as possible, usually within 2 weeks but sometimes longer for large orders. ES Sabers works to get sabers built, assembled, and delivered promptly.
Warranty – All sabers come with a 1-year warranty covering defects. Additional 2-3 year warranties can be purchased as well. ES Sabers will repair or replace any saber with manufacturer issues.
Refund policy – Customers can return unwanted items within 28 days for a full refund. Simply notify ES Sabers within 14 days and return the item within the next 14.
Customer service – With over 1000 positive TrustPilot reviews and an Excellent rating, ES Sabers is praised for their helpful and responsive customer service team.
For cosplayers, collectors, or duelists, the care ES Sabers puts into their lightsabers shines through based on this stellar customer feedback. As one happy buyer put it, "You can feel the quality and craftsmanship immediately when you first grip and ignite the saber."
Pros and Cons of ES Lightsabers
ES Lightsabers deserve their reputation as high-performing, combat-ready sabers that also appeal aesthetically. But before choosing an ES model, weigh some of the key pros and cons:
Pros
Wide selection of designs and models
Deep customization options for unique sabers
Durable, heavy-duty construction for dueling
Advanced sound fonts on many models
Fast shipping and great warranty
Potential Cons
Higher pricing than some prop saber companies
Electronics may require occasional maintenance
Significant learning curve for new owners
Limited stock can cause waitlists on some popular models
For most buyers, the pros heavily outweigh the cons. But be aware of the higher pricing and maintenance required for heavily featured combat sabers. ES Lightsabers cost more than decorative props given their construction and technology.
Recommended Uses and Safety Tips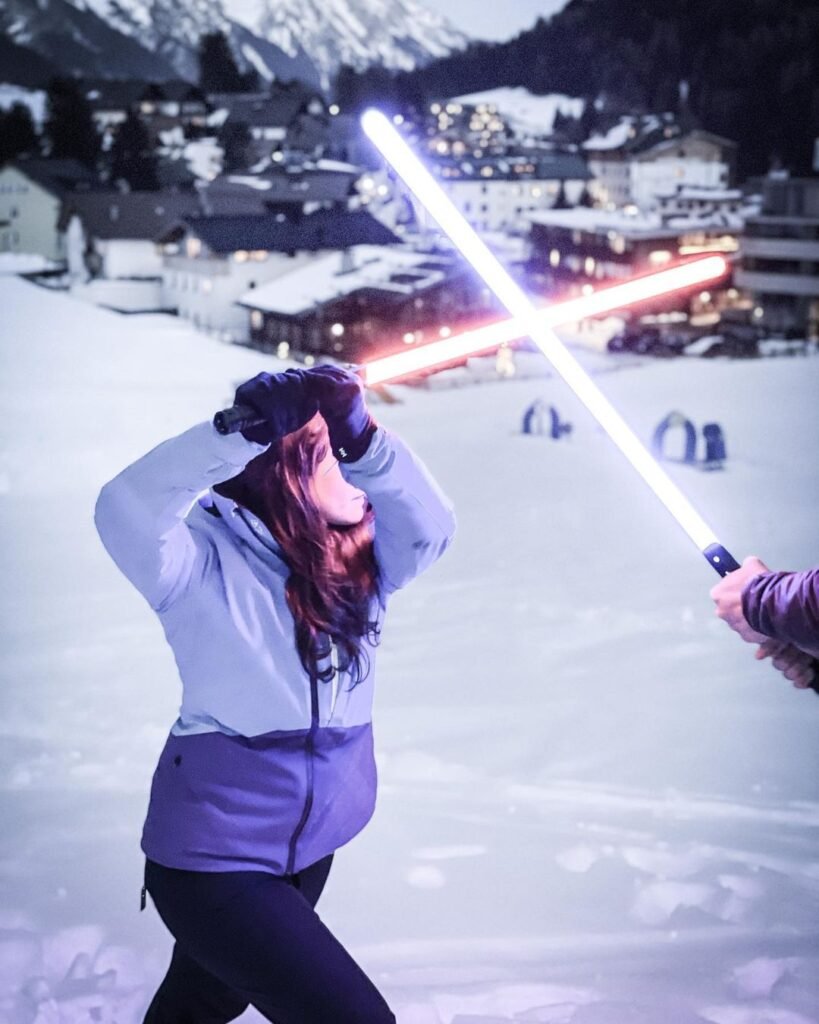 ES Lightsabers accommodate a range of uses:
Cosplay – Their screen accurate designs work beautifully for conventions and costume play.
Training – Spar safely with their durable build against opponents also wielding ES sabers.
Dueling Competitions – Enter combat tournaments that allow full contact ES sabers.
Collecting – Display your customized ES model proudly on its included stand.
For all purposes, but especially active uses like dueling, take necessary safety precautions:
Wear protective eye wear to prevent accidental eye injuries.
Keep adequate space between duel participants – avoid tight quarters.
Inspect hilts/blades before use to check for cracks or malfunctions.
Ensure duelists are trained in proper handling and have necessary padding on hands, head, etc.
Follow all venue rules if using sabers in public spaces like conventions.
With responsible use, ES Lightsabers provide endless hours of entertainment and fulfillment of Star Wars fantasies.
Finding the Right ES Lightsaber for You
With ES Sabers diverse lineup, selecting your ideal lightsaber depends on your needs and preferences.
For cosplay – Pick an accurate replica like Luke or Obi-Wan's sabers that resembles those used in the films.
For dueling – Choose a rugged original design like the Scora or Flakka optimized for combat.
For display – Etched or weathered sabers make beautiful collectibles to show off.
On a budget – Affordable models like the Flakka offer basic features starting under £200.
Seeking customization – Take advantage of ES Sabers personalization options like etching and color changes.
Your first lightsaber – Entry level models like the Flakka accommodate beginners nicely.
No matter your goal for owning an ES Lightsaber, they offer outstanding quality and performance, as customer reviews attest. Be sure to visit es-sabers.co.uk to browse their full catalog using a best coupon code for best prices. Then get ready to enjoy your Jedi or Sith weapon for training, dueling, costume play, or display!
Conclusion
For Star Wars fans seeking more than just a simple costume prop, ES Lightsabers deliver an unparalleled experience. Their commitment to advanced technology and durable materials is evident across their line of combat-ready sabers.
Key takeaways on ES Lightsabers:
Wide selection of dueling and costume saber models
Deep customization via etching, weathering, and color changes
Built durable to withstand repeated combat
Advanced sound fonts on higher-end models
1-year warranty and 14-day refund policy
If you seek a saber that looks stunning but also holds up to intense cosplay or dueling, ES Lightsabers are a top choice loved by customers. Their original designs accommodate full-contact sparring, while movie replicas provide stunning accuracy. And with personalization options, you can make your ES saber truly one-of-a-kind.
Visit es-sabers.co.uk today to start designing and take advantage of these best ES Sabers coupon codes for the greatest value on these innovative, combat-ready sabers.