YesWelder MP200 Review: Best Features That Can Make You Surprise
With the integrated plasma cutter, this multiprocessor offers outstanding value. So it seems obvious that when this special YesWelder model was introduced on Kickstarter, it immediately became popular. Since it is still the only 5-in-1 device available, weekend warriors love it.
So, in this YesWelder MP200 review, we'll take a deep look at its best features of it that can make you surprise.
What Are The Best Features of The YesWelder MP200?
Apart from the inability to weld aluminum, the Yeswelder MP200 is full of great features. This YesWelder MP200 review will discuss the best ones.
Large And High-Quality Display
The enormous display by Yeswelder is the first feature that draws attention. Yet it's not just enormous. We've never seen a menu with better picture quality or menu organization. Bright colors, clear text, and an understandable menu highlight this design.
You can be "tricked" into thinking that the MP200's display is a high-end, professional welder. This is due to the fact that the displays on even the priciest ESAB or Miller devices are not as impressive.
If you didn't read this YesWelder MP200 review, you would think it is much more expensive than the actual price, simply because the display enhances the MP200's premium appearance and makes the setup effortless.
A Lot of Functions And Adjustability
For each welding process, the Yeswelder MP200 supports a variety of settings and functions. The TIG process provides the fewest options, but the other processes are well-equipped.
You can use the 2T/4T mode and set the pre- and post-flow airflow time in the plasma cutting mode. You can choose the electrode type and diameter in stick welding mode, and the machine will adjust the arc as required.
When employing the MIG and FCAW welding techniques, the majority of features are available. To achieve the optimal automatic settings, you can change the wire type, diameter, and material thickness (you can also adjust everything manually using the detailed YesWelder MP200 user manual provided). Additionally, you can further personalize your experience with the 2T/4T and burn-back control.
When making longer welds, the 4T mode is advantageous (or cuts with plasma). Pressing and releasing the torch trigger initiates the arc with 4T. When you do it again, the arc will continue to be lit. The 4T function enables you to access tough corners where it is impossible to fit the torch while holding the trigger without wearing out your hands or fingers.
Power
Every YesWelder MP200 review should mention this. More power is available in the YesWelder MP200 than the usual enthusiast will ever require. It can plasma cut and MIG weld mild steel up to a thickness of 1/2 in. You won't likely require the enormous duty cycle of 60% at full output for welding and cutting. However, you'll be happy to have it. It goes without saying that if you are not using the maximum amps, the duty cycle is considerably higher.
Arc Quality
Although the arc is not as constant as the well-known brands, it works well for most welding jobs. Most likely, a hobbyist won't even notice the difference. You won't encounter any problems unless you're joining stainless steel for delicate applications or doing crucial structural welds.
In particular, when compared to products at comparable prices, this welder has good arc quality. However, you need to move up several price levels if you want a higher arc quality. Arc stability with the E6010 rod is not the strength of the MP200. Even more expensive inverters, however, have trouble with it.
Build Quality
The similar build quality to many welders in this price range is provided by the cast aluminum wire drive system, brass-to-gun connection, good torch and lead quality, solid sheet metal body, and high-grade plastics. Competing units lack the outstanding display, dual fans cooling system, length of provided leads, and display cover, so their market worth is higher.
Even though it was made for hobbyists, the welder was quite nicely manufactured by Yeswelder. However, as an honest YesWelder MP200 review, we advise that you avoid consistently operating at the maximum duty cycle and take precautions against an environment with an excessive amount of dust and moisture.
YesWelder MP200 Review: What Have People Said?
Gerry H.

I couldn't be happier! I'm a novice welder but the Yeswelder makes welding easy. My welds are smooth with excellent penetration. The plasma cutter is saving me a ton of time with my Mustang restoration project. Excellent product.
David V.

Never welded before. Took a 2 hour welding class. Now I can use plasma and mig weld. Success for a 75 year old guy.
Paul K.

So far so good! Ive used this machine for a week and so far it meets all my demands, the only process I have not yet used however is the lift tig ( this is down to me not having any gas not anything else ) but so far everything has been fantastic. I do have one small gripe though, I wish it came with a proper instruction manual instead of being sent a link to a YouTube channel, although extremely helpful in helping me set things up I would've preferred to read about it instead. Apart from that it\'s been brilliant. I even got to try out my new yeswelder hood and gloves that id bought previously.
YesWelder has been receiving a lot of 5-star reviews from customers.
Chad S.

Been a welding instructor for about 10 years. A student came to class with this machine one day. Being a bit skeptical, I tried the machine on all its processes. Needless to say, I ended up purchasing one for my home and knife mailing shop.
Adam L.

Ran into a a little damage during shipping. Customer service was very helpful, sent me the replacement part and gave me a gift card for my troubles in which i purchased a weld helmet with. Ran FCAW on 110v last night and MP200 worked great.
Most of Yeswelder 5-in 1 reviews are positive.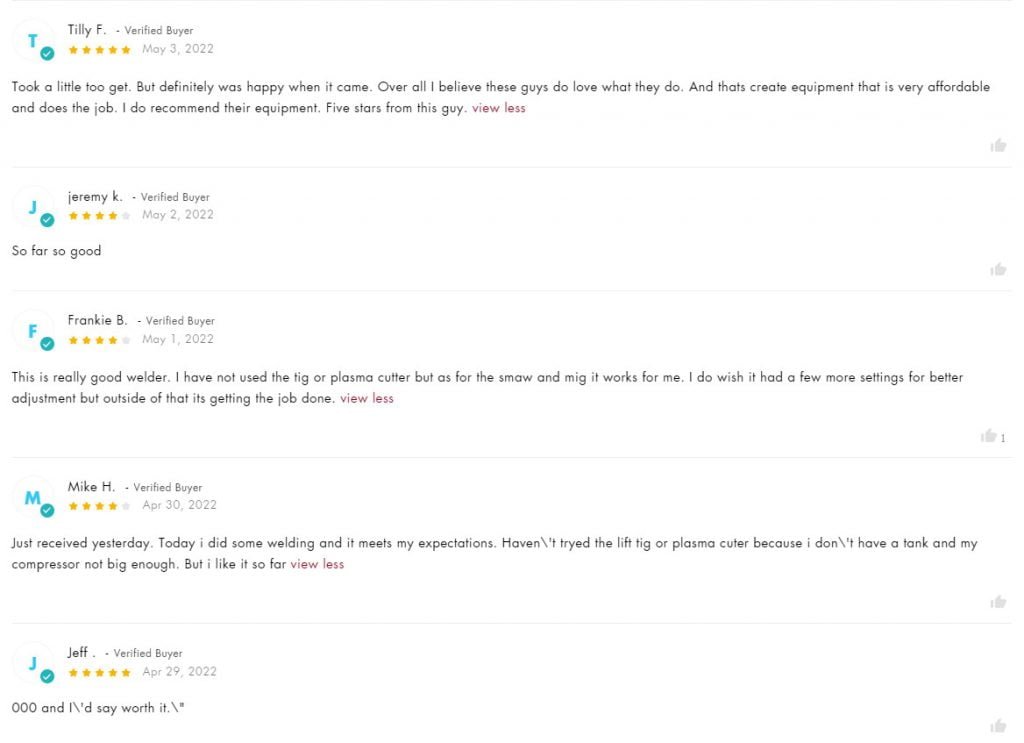 Tilly F.

Took a little too get. But definitely was happy when it came. Over all I believe these guys do love what they do. And thats create equipment that is very affordable and does the job. I do recommend their equipment. Five stars from this guy.
Frankie B.

This is really good welder. I have not used the tig or plasma cutter but as for the smaw and mig it works for me. I do wish it had a few more settings for better adjustment but outside of that its getting the job done.
Mike H.

Just received yesterday. Today i did some welding and it meets my expectations. Haven't tried the lift tig or plasma cuter because i don't have a tank and my compressor not big enough. But i like it so far.
Conclusion
The MP200 is a highly economical option if you want all the welding processes, including plasma cutting, but don't need heavy-duty, professional welding. We really hope this YesWelder MP200 review and all the available discount codes from YesWelder will help.