Women's sex toys nowadays come in many forms and sizes. Some are straight and smooth, while others are curved and wavy, and everything might be huge or tiny. All of this variation for one objective – orgasmic pleasure – and that's what Tracys Dog has to offer.
With this Tracys Dog review, we'll examine the top 3 sex toys by Tracys Dog that are ideal for the most intense orgasms based on customer feedback. So let's dive right in.
3 Best Vibrators by Tracys Dog You'll Love
You obviously don't want people to know what you buy in the box. Let's get started with the packaging before diving into the Tracys Dog review of the best products.
Tracy's Dog vibrator packaging
This vibrator's sleek, discrete, basic packaging will captivate you.
A large, black hard box that gives you the impression that you are getting a gift – from yourself. Instead of discarding the box, save it to store the toy when you're finished with it. It will blend in and not call notice to itself.
The vibrator, a small container of water-based lubrication, a little drawstring pouch, a USB cord, and an instruction booklet in many languages are all included in the box.
This may be a crazy sex toy, but the whole product has a cool, restrained air to it. It is a perfect combination of a stylish look with a nasty act which you'll like in this Tracys Dog review.
Tracys Dog Review: What are the bestsellers?
OG FLOW, 2-in-1 Clit Sucking Vibrator for Double Pleasure
It's likely that you will rediscover yourself thanks to suction vibrators. Regardless of other vibrators hiding in the shadows of the internet, once that small sucker grips your clit, you won't remember why you ever tried anything else. To be honest with you in this Tracys Dog review, no one has carried that experience quite as far as Tracy's Dog has.
Its two-in-one suction vibrator line will teach you not just what sort of stimulation your body likes, but also how to push personal pleasure well beyond what you imagine your body is able to with the OG.
So, what distinguishes the OG Flow from Tracy's Dog's other suction vibrators? In comparison to the OG Pro 2 (the improved version of the viral OG), the Flow lets you adapt its multifunctions to best fit your own body, providing pleasure precisely how and where you want it.
After all, each body is unique and requires distinct stimulation, and vibrators should not be a one-size-fits-all solution. This is largely done via the Flow's flexible shaft. Because of this, the Flow can work as a suction vibrator, a G-spot vibrator, or a dual-stimulating vibrator with suction, depending on your needs. This is an amazing feature every user loves, as stated in any Tracys Dog review.
The toy's website includes useful illustrations and blurbs to guide you through the many modes of play. The website suggests starting by straightening the shaft to provide an easy-to-hold grip for your suction vibe and then folding the shaft to be insertable and vibrate internally to reach your G-spot once suitably warmed up.
This approach, according to the toy's description, will culminate in what promises to be pleasure beyond your wildest fantasies which can be effective enough to replace all your other toys.
OG Sucking Vibrator
If you're asking why so many people wish to have this vibrator, let us explain. You may have seen the lengthy (and funny) Amazon review that went viral on social media—and, believe it or not, it is Tracys Dog review of this vibrator. The u-shaped gadget has two stimulation options: vibrations or mild suctioning. Unfortunately, you can't use both ends at the same time—but that didn't stop thousands of people from getting to the big 'O' with this handy little device.
If you wish to mimic oral intercourse, use the suction end, which can be directly placed on your clitoris. You can effortlessly switch to vibrating mode during the same session to stimulate your clitoris in a fresh way or insert it vaginally to reach your G-spot. Whatever side you like, you'll have 10 distinct modes to pick from, each with a different strength and frequency.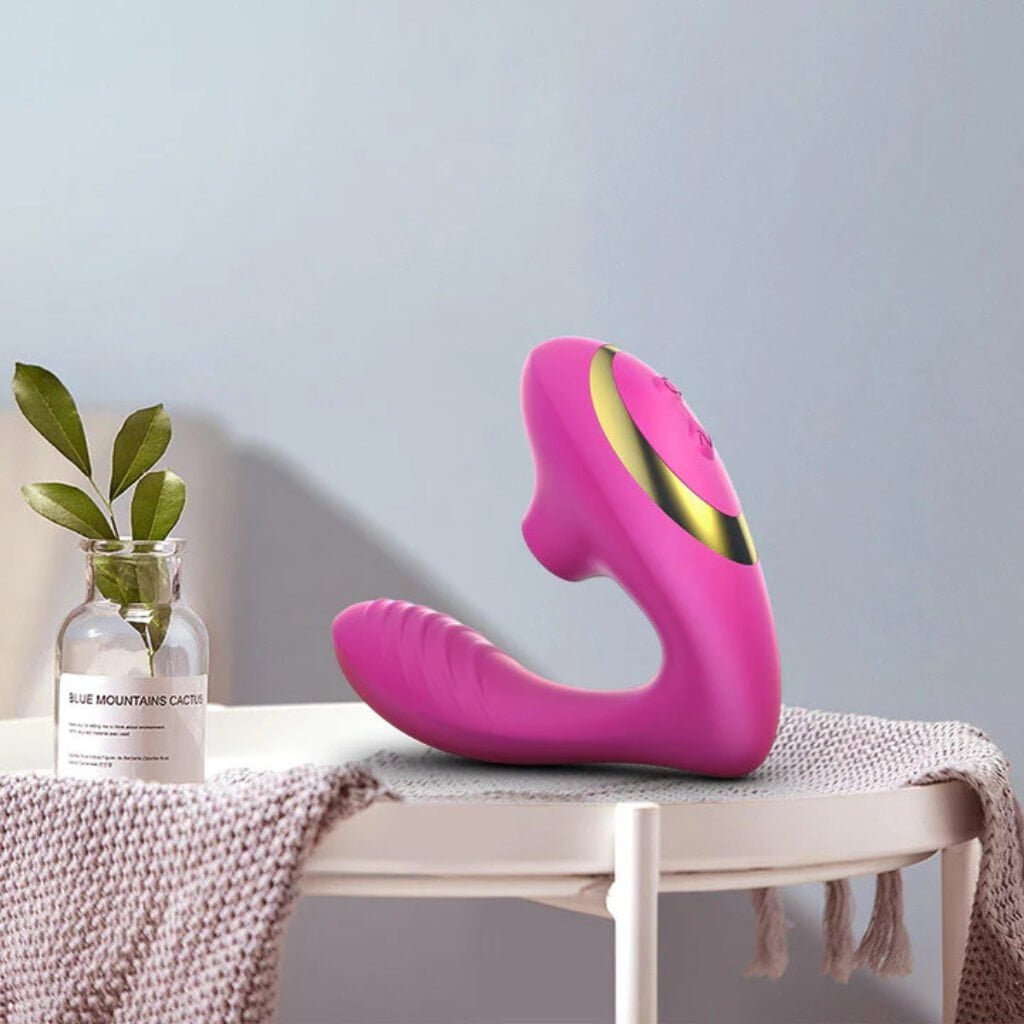 If you prefer a marathon to a sprint, you'll appreciate the strong battery's ability to run for 60 minutes straight (and a full battery recharge takes only 1.5 hours)—though several reviewers noted that it only took a few minutes to reach their ultimate destination. Furthermore, the total silicone vibrator is completely waterproof, so the enjoyment doesn't have to be confined to the bedroom.
Best of all, if you want to keep your personal time private, the box comes in highly unobtrusive plain packaging. All things considered, it's no wonder that this dual-action vibrator is the best-selling clitoral vibrator on Amazon. This Tracys Dog review can only reaffirm that fact.
OG Pro2 Sucking Vibrator
The Tracy's Dog OG Pro2 is a remote-controlled, dual-stimulation sex toy for those with vulvas that targets both the clit and the G-spot. The interior arm is a traditional G-spot vibrator, while the exterior arm uses suction technology to offer clitoral stimulation. Its design has a big internal shaft.
If you've used an insertable dual stim toy before, you might notice that the insertable area on this one is larger than you're accustomed to. Take it gently and liberally apply water-based, body-safe lubrication.
The clitoral suction stimulator has a whopping ten distinct rising speeds so it can meet all the different needs of different users.
The best part of this Tracys Dog review of the toy is that you can truly operate it without using your hands! People often prefer clitoral suction stimulators when the legs are close together, and that position, along with the form of the OG Pro2's internal arm, allows them to use the toy without having to hold it in place. This is especially useful when used with the remote control.
Tracys Dog Review: Why should you choose?
About Tracy's Dog
The company was founded in 2015 with the goal of creating toys that were most enjoyable for vaginal usage. Since then, things have progressed; there are now toys for everyone because we all deserve sexual well-being and enjoyment.
Furthermore, the toys are designed particularly for exploring your body. Knowing yourself is synonymous with self-love, and what better way to do so than to completely comprehend what you like most and how your body works? We highly appreciate this message in this Tracys Dog review.
Tracy's Dog produces toys designed to break down obstacles and stigmas associated with sex and masturbation, with the notion that "everyone deserves excellent sex and to embrace their sexuality." The items are designed to enable customers to experience pure pleasure while immersing themselves and their companions in intimate moments.
Read more: Vigor Labs Black Snake Review: Can It Yield Great Results?
Tracys Dog Review: What have people said?
Let's have a look at the most common customer feedback on Tracy's Dog products.
Tracys Dog clitoral sucking vibrator

I've used various toys & whilst most do the job, but this one absolutely is the best toy I have ever had. It is just soooo amazing! It gave very intense pleasure and has gave me the best climax ever! The sucking and vibration work really well together and make this toy explosive. It's super powerful & easy to use.
so worth the money!

I was skeptical if it's worth the money first… but this was the best decision of my life!!! swap your man to this, it's better.
Sucking vibrator review tracys dog

Just received mine tonight and It was amazing. I just fully learned how to use it for my first time and I can't wait to see what it has to offer. I am in Love with this toy.
Tracys Dog OG Pro

Package came fast, packaging was discreet and nicely wrapped up. The vibrator works amazing and would definitely recommend it. It comes with a cute bag to store your vibe in, I will definitely purchase more items from this site.
"Works as promised" is Tracys Dogs

I'm gonna keep this brief. That viral review? Did not lie. I'm 1200 miles away from my wife and needed to take care of things. This toy has gotten a lot of use since my purchase. The remote is mostly reliable, the material is soft, and my only complaint was that even the lowest setting was too strong for me once I figured out alignment of all the bits…. But after some time together, that's not an issue anymore 😂
Conclusion
From the customer feedback in this Tracys Dog review, you can see that these are all leading vibrators. To tell which one is superior, you need to explore it yourself. They will bring you to seventh heaven in no time, making them ideal for anybody looking for a quickie – with or without a partner.
These toys are not for the faint of heart, so ladies, take your time with them. If you're a beginner, choose the lower-intensity settings which are less hard, enabling you to ease into them.
Most sex toys perform as a pleasant train to bring you to the promised land of orgasms, but with the appropriate setup, Tracy's Dog will take you there right immediately.
So are you ready with all the thrill and pleasure you ever expected? Here are the most updated discount codes you need.