Sunday Scaries CBD Review: A Thorough Look at This Trendy CBD Brand
Cannabidiol, better known as CBD, has exploded in popularity over the past few years thanks to its touted wellness benefits. Derived from hemp plants, CBD is a non-intoxicating compound that some users say helps them feel calmer, sleep better, and manage pain.
With the rise of CBD, hundreds of companies have jumped into the market, making it tricky for consumers to discern which brands are high-quality and reliable.
One CBD company that gets a lot of buzz, especially on social media, is Sunday Scaries. Their packaging promises their CBD products will "keep the Sunday scaries away" – aka the anxiety, stress, or fear many people feel as the weekend comes to an end.
But beyond clever branding, how do Sunday Scaries' products actually stack up? Do they live up to the hype? In this Sunday Scaries CBD review, we'll give you an unbiased look at this brand's lineup so you can decide if the CBD is worth trying.
Overview of Sunday Scaries CBD
Founded in 2017 by entrepreneurs Mike Sill and Beau Schmitt, Sunday Scaries set out to create CBD products specifically formulated to relieve stress and tension.
Based in San Diego, California, the company sources its CBD from farms in Colorado. They say their hemp is grown organically and without pesticides.
Sunday Scaries CBD products include:
CBD Gummies
Vegan AF CBD Gummies
CBD Oil Tinctures
CBD Candy
CBD Bath Bombs
It's worth mentioning in this Sunday Scaries CBD review that their gummies are their most popular offering. Formulated with vitamins B12 and D3, the gummies contain 10 mg of broad-spectrum CBD each. The vegan gummies provide the same CBD dose without gelatin.
For their tinctures, Sunday Scaries uses coconut oil as a carrier to enhance CBD absorption. Each dropper of the tinctures has 20 mg of CBD.
Every Sunday Scaries batch is tested by a third-party lab to ensure it's free of contaminants and contains the listed amount of CBD. The company makes the lab reports available on its website.
According to Sunday Scaries, their lighthearted branding is aimed at making CBD more approachable for the average consumer. But do their actual products live up to the millennial-friendly marketing?
With this Sunday Scaries CBD review, Let's dive into the pros and cons.
Read on: Sunday Scaries Big Spoon Review: Does This CBD Sleep Oil Really Work?
Pros of Sunday Scaries CBD
Broad-spectrum CBD
All Sunday Scaries products contain broad-spectrum CBD extract. This means the CBD is processed to remove THC while retaining other cannabinoids and terpenes from the hemp plant.
For those concerned about getting high or failing a drug test from hemp-derived products, broad-spectrum CBD offers peace of mind. The non-detectable THC also makes their CBD accessible in all 50 states.
Positive User Reviews
Sunday Scaries CBD reviews from customers demonstrate high satisfaction with Sunday Scaries' offerings. Their gummies in particular receive rave reviews.
On the brand's website, the regular CBD gummies have earned hundreds of reviews with an average rating of 4.9 out of 5 stars. Reviewers praise the gummies for their pleasant taste and effectiveness in reducing their anxiety.
One first-time user reported: "I struggle with anxiety and insomnia during stressful work times. I was skeptical to try the CBD gummies but I'm so glad I did. I took one before bed and slept through the night for the first time in months. Going to be keeping these on hand for sure."
The overall Sunday Scaries CBD review ratings also show favorable experiences from Sunday Scaries customers. The has a great score of 4.8 out of 5.
Such positive first-hand accounts indicate their CBD gummies and products work as intended for most people.
User-Friendly Experience
From their packaging to their online shopping experience, Sunday Scaries aims to make CBD more fun and approachable. Their branding sets them apart from sterile supplement companies.
The company's website offers a simple shopping layout with ample product information. Their blog provides dosing guidance and recipes for incorporating CBD into daily life.
It's relevant to point out in this Sunday Scaries CBD review that their subscriptions make reordering a breeze. Customers can save 10% by signing up to receive monthly shipments of their favorite CBD products.
For new CBD users, Sunday Scaries has a robust FAQ section that covers topics like recommended dosages, possible side effects, and drug testing concerns. Their customer service team is also responsive to questions via phone, email, or social media.
Quality Manufacturing & Testing
When buying consumable CBD products, it's crucial to know exactly what's inside. Sunday Scaries takes steps to provide quality and transparency.
The company sources organic, GMO-free hemp grown in the U.S. Their extraction process yields a broad-spectrum CBD oil which is then submitted to ISO-certified labs for contaminant testing.
Independent lab reports confirm Sunday Scaries products are free of pesticides, molds, heavy metals, and residual solvents. The reports also validate the CBD, THC, and other cannabinoid contents listed on product labels.
Such third-party testing offers assurance about safety and accurate dosing. Sunday Scaries makes it easy to access the lab analyses for each batch. Just enter the lot number from any product package on their website to pull up the corresponding report.
Cons of Sunday Scaries CBD
While Sunday Scaries earns high marks in many regards, they aren't perfect. Here are some downsides to weigh in our Sunday Scaries CBD review:
Limited Product Selection
With only a handful of product options focused mostly on edibles, Sunday Scaries has a narrow selection compared to some CBD companies.
They don't offer CBD topicals, soft gels, or vapes. And their CBD strength options are limited as well – for example, their tinctures only come in 500 mg bottles.
Those wanting more diverse formats, flavors, and potencies may have to look to other brands. However, Sunday Scaries product simplicity could be viewed as an advantage for CBD newcomers.
Mixed Reviews on Taste
Sunday Scaries emphasizes the great taste of their CBD gummies. However, customer palates seem split on whether the flavor delivers.
Some reviews rave about the sweet, candy-like gummies. But others complain about an overpowering artificial sweetener aftertaste. The addition of corn syrup likely appeals to some tastes more than others.
Of course, taste is highly subjective. Those with a sweet tooth will probably enjoy the gummy flavor while health-conscious consumers may find it too cloying.
Sunday Scaries CBD Review: Product Breakdown
Let's take a more detailed look at the signature products in the Sunday Scaries lineup.
CBD Gummies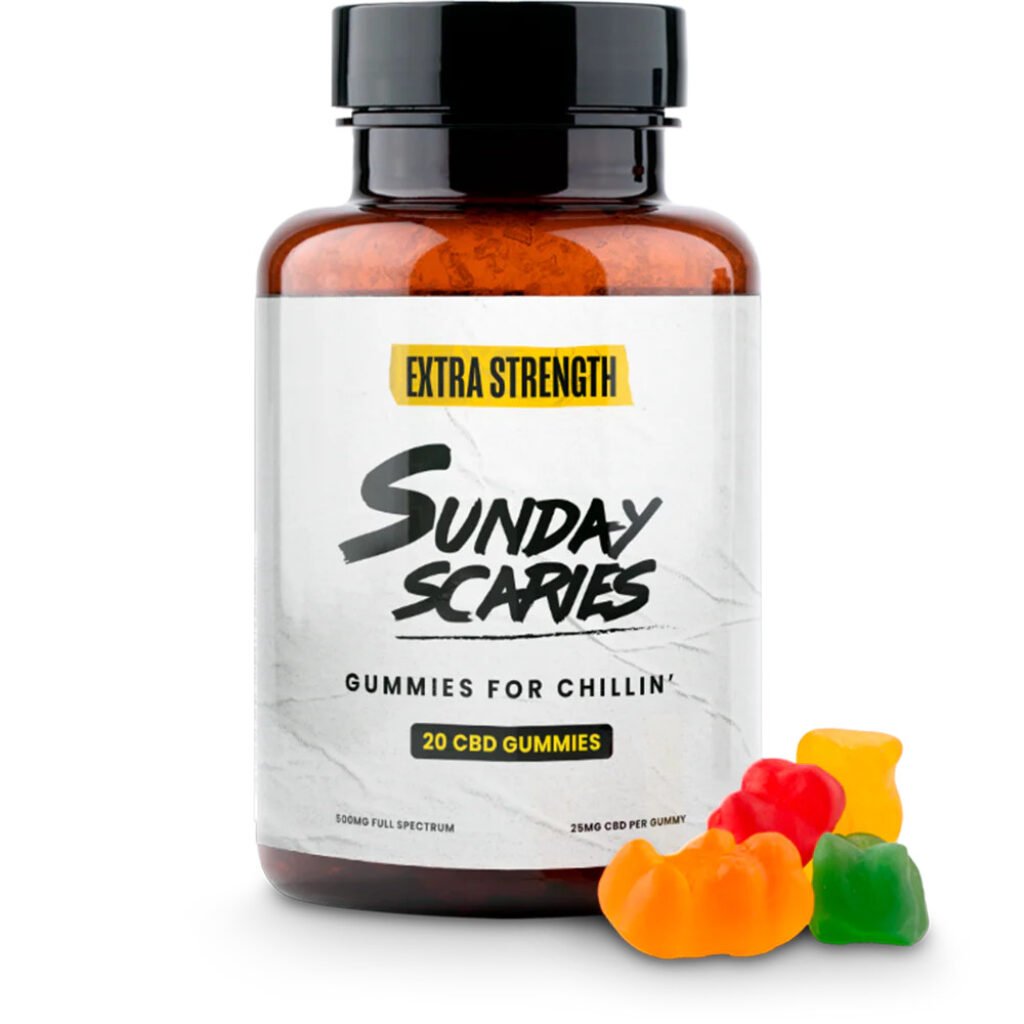 As the brand's number one seller, Sunday Scaries CBD review ratings for the gummies have amassed nearly 5 stars. The gummies have a few differentiating features that users love:
Dose: 10mg CBD per gummy
Type: Broad-spectrum
Count: 20 gummies per bottle
Formula: Along with CBD, the gummies contain vitamins D3 (5mcg) and B12 (2.5mcg) to support the nervous system. The company says this vitamin blend enhances CBD's stress-relieving properties.
Flavor: The gummies come in a "Tropical" flavor described as sweet and sour. They're coated in a blend of corn syrup, turmeric, and organic cane sugar.
Customers say the gummies offer relief from stress and anxiety. Many reported the calming effects last for several hours. However, some noted the gummies have a distinct "hempy" aftertaste.
The company recommends 1-3 gummies per day based on desired effects.
CBD Oil Tincture
For those who prefer unflavored oils, Sunday Scaries CBD Tincture offers a straight CBD and coconut oil blend.
Dose: 500mg CBD per bottle; 20mg CBD per dropper (25 droppers total)
Type: Broad-spectrum
Flavor: Unflavored
Made using a CO2 extraction process, the oil has an earthy, nutty taste according to reviews. Users mention mixing the tincture into drinks or foods to avoid the strong natural hemp flavor.
The company suggests experimenting with 10-20mg doses (or 0.5-1 droppers) to see what works best individually.
Vegan AF CBD Gummies
These gummies mimic the original Sunday Scaries CBD gummies using vegan ingredients. Instead of animal-based gelatin, they use pectin to create the gummy base.
Dose: 10mg CBD per gummy
Type: Broad-spectrum
Count: 20 gummies per bottle
Formula: The gummies include Vitamin B12 (2.5mcg) and D3 (5mcg) without any animal products. They're also free of soy, dairy, and gluten.
Flavor: Fruity
As with the originals, the Vegan AF gummies aim to promote stress relief and relaxation. According to Sunday Scaries CBD reviews, the pectin base gives these gummies a different texture than traditional gelatin gummies. But the CBD effects seem consistent with Sunday Scaries' other products.
CBD Gummy Bears
For an alternative to the main CBD gummies, Sunday Scaries offers a classic CBD gummy bear version.
Dose: 10mg CBD per bear
Type: Broad-spectrum
Count: 20 bears per bottle
Flavors: Assorted fruit flavors
These gummy bears provide the same CBD potency and stress-busting effects as the regular CBD gummies in a different shape. Their smaller cubed size makes them more discreet and portable.
The assorted fruit flavors give variety in tastes and colors. However, because additives vary between flavors, Sunday Scaries notes the exact nutritional content may differ slightly from the main gummies.
Sunday Scaries CBD Review: Are They Worth Buying?
Sunday Scaries ticks many boxes for a quality CBD company:
Their broad-spectrum CBD undergoes rigorous third-party testing
Sourced from organic, sustainable farms
Committed to transparency and customer education
Use of CO2 extraction for high-purity
Excellent customer reviews and feedback
Their CBD gummies especially seem to be a winner based on user experiences. And their branding brings more fun to the table than most CBD companies. However, those wanting specialty formats like topicals or vapes will need to look elsewhere.
Overall, Sunday Scaries is ideal for:
Newcomers to CBD wanting an approachable entry point
Those focused specifically on edible formats
Shoppers willing to pay higher prices for quality and transparency
People who gravitate toward the lighter, playful branding
At the end of the day, the majority of Sunday Scaries CBD review opinions from users back up the claims that their CBD can melt away stress and tension.
Their biggest strength lies in their gummies and oral tinctures rather than specialty products. So CBD users comfortable with those formats will likely be happiest with Sunday Scaries' offerings.
For the best value, be sure to check sundayscaries.com for regular sitewide sales and discounts. Make use of these updated Sunday Scaries coupon codes to maximize any first-time purchase.
Hopefully, this comprehensive Sunday Scaries CBD review has provided the information you need to decide if the CBD is a fit for your wellness needs and preferences!