Are you searching for an affordable 3D printer that doesn't compromise on quality or functionality? Well, we've got you covered because in this article, we aim to introduce you to the amazing world of Sovol printers and why they should be your top choice.
Equipped with direct drive extruders and planetary gear, Sovol3D offers precise and smooth printing, bringing your designs to life with incredible detail. The automatic leveling system ensures hassle-free bed calibration, saving you time and ensuring impeccable print quality. With a generous print volume, Sovol printers accommodate larger projects, allowing your creativity to flourish.
Join us as we explore the remarkable features and advantages of these printers in the following sections!
About Sovol3D
Let's take a closer look at Sovol3D, a team of dedicated individuals driven by technology and passionate about developing, upgrading, and promoting 3D printers with innovative solutions for makers worldwide.
With its headquarters located in one of the fastest-growing cities, Sovol3D has become a global leader in manufacturing 3D printers, filaments, and printer accessories. Their primary goal is to provide affordable, high-quality 3D printers that cater to the unique needs of their customers.
Sovol3D specializes in producing a variety of 3D printers, printer parts, and accessories. Their product range includes direct-drive extruder printers, dual extruder printers, and independent dual direct-drive extruder printers. Each model is meticulously designed and crafted to ensure outstanding quality and performance.
Their printers are widely recognized for their reliability, impressive print results, and competitive pricing. With Sovol3D, you can trust that you're investing in a brand that understands and caters to the diverse needs of makers around the world.
Features that Make Sovol Printers Stand Out
When it comes to affordable 3D printers that deliver exceptional performance, Sovol printers excel with a range of standout features. Let's delve into what sets them apart:
Precision with Direct Drive Extruders and Planetary Gear
Sovol printers employ direct drive extruders with planetary gear, ensuring accurate and stable extrusion. This combination results in remarkable print quality, even rivaling more expensive models. Take the Sovol SV06, for example, which incorporates a planetary-geared direct drive system, typically seen in pricier printers.
Stability and Safety with Dual Z-Axis
The printers feature a dual Z-axis configuration, enhancing stability and print accuracy. The dual Z-axis design of the Sovol SV01 Pro not only ensures precise prints but also adds an extra layer of safety. In the event of a stepper motor failure, the second motor takes over, preventing any potential mishaps.
Effortless Setup with Automatic Leveling
Sovol3D simplifies the setup process with automatic leveling. The Sovol3d SV01 is equipped with a convenient leveling sensor, while the Sovol SV06 boasts automatic print bed leveling. These features make getting started a breeze, ensuring consistently perfect prints.
Seamless Printing Experience with Print Resume Function
These printers offer a print resume function, allowing you to resume printing seamlessly in case of interruptions. The Sovol3d SV03, for instance, ensures that your progress is saved, even if the power unexpectedly cuts off or other disruptions occur.
Versatile Printing Capacity with Large Print Volume
Sovol printers provide ample print volume, accommodating larger objects with ease. With a generous print volume of 280mm x 240mm x 300mm (11.02″ x 9.45″ x 11.81″), the Sovol SV01 Pro allows you to unleash your creativity on a bigger scale.
These impressive features make the printers an ideal choice for beginners and cost-conscious individuals alike. Whether you're a passionate maker, a small company, or an individual exploring different filaments, these printers cater to diverse needs, delivering outstanding results every time.
Affordability
Let's talk about one of the biggest advantages of Sovol printers: their affordability. We understand that cost is a crucial factor, especially for beginners and those on a budget who want to delve into the captivating world of 3D printing.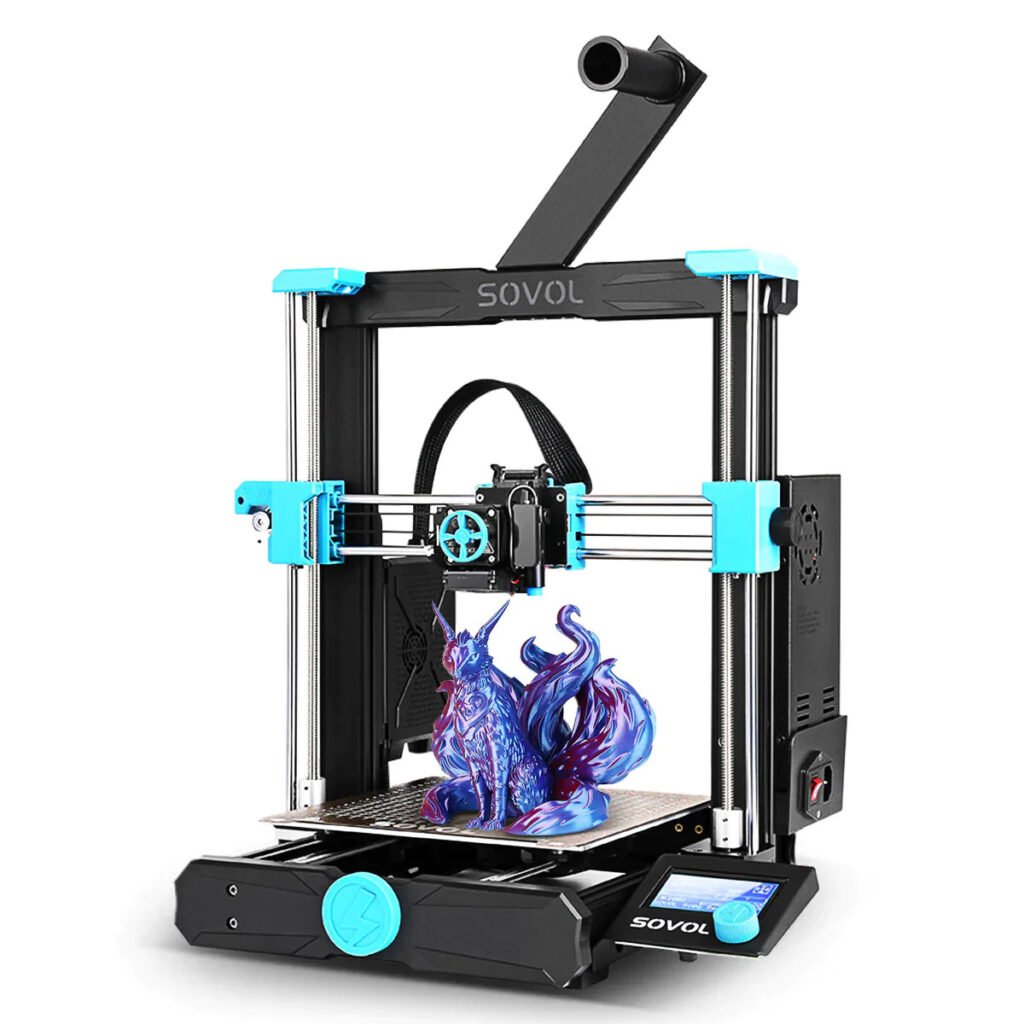 These printers strike an impressive balance between affordability and features, making them a smart choice for aspiring creators. They offer a competitive price point that won't empty your pockets, while still delivering features that enhance your printing experience.
In fact, Sovol3D stands out by offering more features and better print quality compared to many other printers in the same price range.
With their printers, you can confidently explore your creative ideas without compromising on quality or breaking the bank. Whether you're a hobbyist or someone eager to embark on a new venture, these printers empower you to achieve high-quality results quickly and affordably.
Print Quality
When it comes to print quality, Sovol printers have earned accolades from users worldwide.
The secret behind their remarkable output lies in their direct drive extruders enhanced with planetary gear. This innovative combination ensures precise and stable extrusion, resulting in exceptional print quality without breaking the bank.
Moreover, the printers boast a generous print volume that allows you to unleash your creativity on a larger scale. With more space to work with, you can bring your intricate designs to life with enhanced detail and precision.
Whether you're a beginner exploring the world of 3D printing or an experienced enthusiast seeking professional-grade results, Sovol printers deliver high-quality prints that rival more expensive alternatives.
Experience the joy of witnessing your creations materialize with stunning clarity and accuracy, all thanks to Sovol's commitment to affordable excellence.
Who are Sovol Printers for?
The printers by Sovol3D cater to a diverse community of passionate individuals, companies, and makers who strive for exceptional results in their 3D printing journey.
If you're a maker at heart, these printers provide you with the tools to develop, upgrade, and explore new possibilities in the world of 3D printing. Fuel your innovative spirit and bring your ideas to life with Sovol's cutting-edge solutions.
For customers seeking to spread the joy of 3D printing, these printers offer an opportunity to create beautiful prints that captivate the imagination of family and friends. Let the fun ripple through your social circles as you share the magic of bringing ideas into tangible reality.
Companies and organizations looking to harness the power of 3D printing to communicate their offerings can rely on these printers to deliver consistent, high-quality results. Stay ahead of the competition and captivate your target audience with Sovol's reliable performance.
Sovol printers are also perfect for individuals embarking on their 3D printing journey. With Sovol, you can dive into the world of 3D printing with confidence, achieving remarkable results quickly and effortlessly.
No matter your skill level or ambition, Sovol printers are designed to support your creative aspirations. From PLA to ABS, TPU to PETG, the printers accommodate a range of filaments, empowering you to experiment and explore new horizons.
In a nutshell, the printers by Sovol3D are tailor-made for makers, customers, companies, and individuals who crave high-quality results and the freedom to print with a variety of filaments. Whether you're an experienced maker, a company looking to stay ahead of the curve, or an enthusiastic beginner, these printers have something for everyone.
Real Reviews from Users
We've gathered some insights from the 3D printing community to give you a glimpse into their experiences. Sovol printers are renowned for their high-quality prints and affordable prices, making them a popular choice among enthusiasts.
While the Sovol SV05 is relatively new and hasn't been extensively reviewed yet, two other printers have garnered praise for their exceptional print quality.
The Sovol SV06 has caught the attention of users with its impressive capabilities and affordability, delivering similar features to the revered Prusa MK3S+ at a fraction of the cost. It's an exciting prospect for those seeking a budget-friendly option with high potential.
The Sovol SV01 Pro has also earned recognition for its noteworthy features, making it a popular upgrade choice. Reviewers appreciate the attractive price point coupled with the printer's enhanced capabilities, offering users an enticing package.
Furthermore, Sovol printers have received positive feedback from customers and reviewers alike. Reviews highlight the printers' affordability, value for money, and wide range of features. The Sovol SV03, in particular, has been praised by professional 3D printer YouTubers who have objectively reviewed its performance, shedding light on its strengths.
Those real users have voiced their satisfaction with these printers, emphasizing their affordability, value for money, and impressive feature sets.
Read more: Sovol SV04 IDEX 3D Printer Review: A Comprehensive Look at the Large Format IDEX 3D Printer
Conclusion
Printers by Sovol3D offer an impressive combination of features, affordability, and print quality. Whether you're a beginner or someone on a budget, Sovol printers are designed to help you achieve high-quality results quickly and easily.
With these printers, a world of creative possibilities awaits. Whether you're a maker with innovative ideas, a company seeking to capitalize on the latest trends, or an individual eager to explore the realm of 3D printing, the printers cater to a wide range of users. Plus, with their compatibility with various filaments, you can bring your ideas to life using materials like PLA, ABS, TPU, and PETG.
So, we highly recommend checking out the Sovol3D website today to learn more. Not only do they offer a compelling blend of affordability and features, but they also provide reliable support along the way. For the best prices, take advantage of these available coupons. Take the leap into the exciting world of 3D printing with Sovol printers.