Meepo Electric Skateboard Review: A Popular Budget Board Worth Buying?
Over 120,000 riders worldwide have fallen in love with Meepo electric skateboards. As one of the most popular budget electric skateboard brands, Meepo is known for its affordability, beginner-friendly designs, and decent performance. But how do Meepo boards really stack up? Is a Meepo worth buying?
In this in-depth Meepo electric skateboard review, we'll cover everything you need to know about these popular electric skateboards. We put several top Meepo models through extensive testing and research to provide a complete picture of their features, performance, pros, and cons. Read on to find out if a Meepo electric skateboard is right for your needs and budget.
Overview of Meepo Electric Skateboards
Founded in 2016, Meepo set out to make electric skateboarding more accessible and affordable. The company quickly gained a following thanks to their budget-friendly boards packed with good features.
Meepo electric skateboards are known for:
Affordability – Meepo boards offer great value, with prices ranging from $429 to $1,399. This makes them very attractive for beginners and riders on a budget.
Beginner-friendly designs – Many Meepo boards have features tailored for new riders like wider decks for stability and different speed modes for learning.
Decent range and speed – Meepo boards can hit speeds of 19-28 mph and get 7-22 miles of range depending on the model – solid specs for the price.
Suitable for all rider levels – From newbies to experienced shredders, Meepo boards appeal to a wide range of riders with different needs.
Concave deck for stability – Meepo's concave deck design helps keep your feet locked in for better control at higher speeds.
With over 120,000 riders worldwide, it's clear that Meepo electric skateboards have struck a chord by delivering an affordable entry point into electric skateboarding. Now, in this Meepo electric skateboard review, let's take a closer look at some of their most popular models.
Meepo V5 Review
Top Speed: 19 mph
Range: 11 miles
Motor: 500W hub motor
Battery: 10s2p 36V 6.0Ah 217Wh
Weight: 17 lbs
Overview
As Meepo's latest budget board, the V5 is a great entry-level electric skateboard that prioritizes range over power. Priced at $429, it's one of the most affordable options out there. It's worth noting in this Meepo electric skateboard review that the V5 is beginner-friendly and offers decent performance for casual riding and commuting.
Performance
With its 500W hub motor, the Meepo V5 can reach a top speed of 19 mph. It's not the fastest board, but provides adequate punch and acceleration. The 10s2p battery delivers a maximum range of 11 miles. This isn't outstanding, but decent for an affordable board meant for shorter rides.
The V5 can handle small hills and uneven terrain without issue. But don't expect high power or torque for steep hills at its price point. Overall, performance is solid for casual cruising and commuting, but not for serious shredding.
Design and Features
Sporting a stylish retro design, the V5 has a flexible bamboo and Canadian maple deck that absorbs vibration nicely. The kicktail allows for snappy turns and maneuverability. With its wider deck and smooth acceleration control, the V5 is optimized for stability – perfect for beginners.
The V5 uses Meepo's reliable LingYi ESC with 4-speed and braking modes. When doing research for this Meepo electric skateboard review, we found the brakes to be fairly smooth and responsive. Other features include headlights for visibility and swappable 95mm PU sleeves on the hub motors.
Pros and Cons
Pros
Very affordable price
A good range for a budget board
Beginner-friendly flexible deck
Reliable ESC with smooth braking
Cons
Low top speed and hill-climbing power
Battery range could be better
Mediocre maneuverability
Who It's Good For
With its flexible deck and smooth acceleration, the Meepo V5 is a great choice for beginners or anyone looking for an ultra-affordable electric skateboard just for casual riding around town. It offers decent quality and performance for a very low price point.
Meepo NLS Pro Review
Top Speed: 25 mph
Range: 14 miles
Motors: Dual 540W hub motors
Battery: 10s2p 36V 7.0Ah 252Wh
Weight: 17 lbs
Overview
The Meepo NLS Pro is one of Meepo's higher-end boards designed for commuting and carving city streets. It's worth noting in this Meepo electric skateboard review that It offers impressive speed and range for the price thanks to its dual hub motors and 10s2p battery. The flexible composite deck provides a smoother ride.
Performance
With dual 540W motors, the NLS Pro delivers snappy acceleration and a zippy top speed of 25 mph – fast enough for most riders. We got about 14 miles of range in our test rides, which is great for commuting and cruising around town. The flexible deck and large 90mm wheels handle cracks and bumps in the road with ease.
The NLS Pro can tackle moderate hills without issue and offers decent power for climbing short steep hills. Carving felt stable and responsive. However, the hub motors can't match the torque and hill climbing of belt drive boards. Also, the maneuverability feels a bit limited. But overall, we can confidently say in our Meepo electric skateboard review that performance is impressive for the price.
Design and Features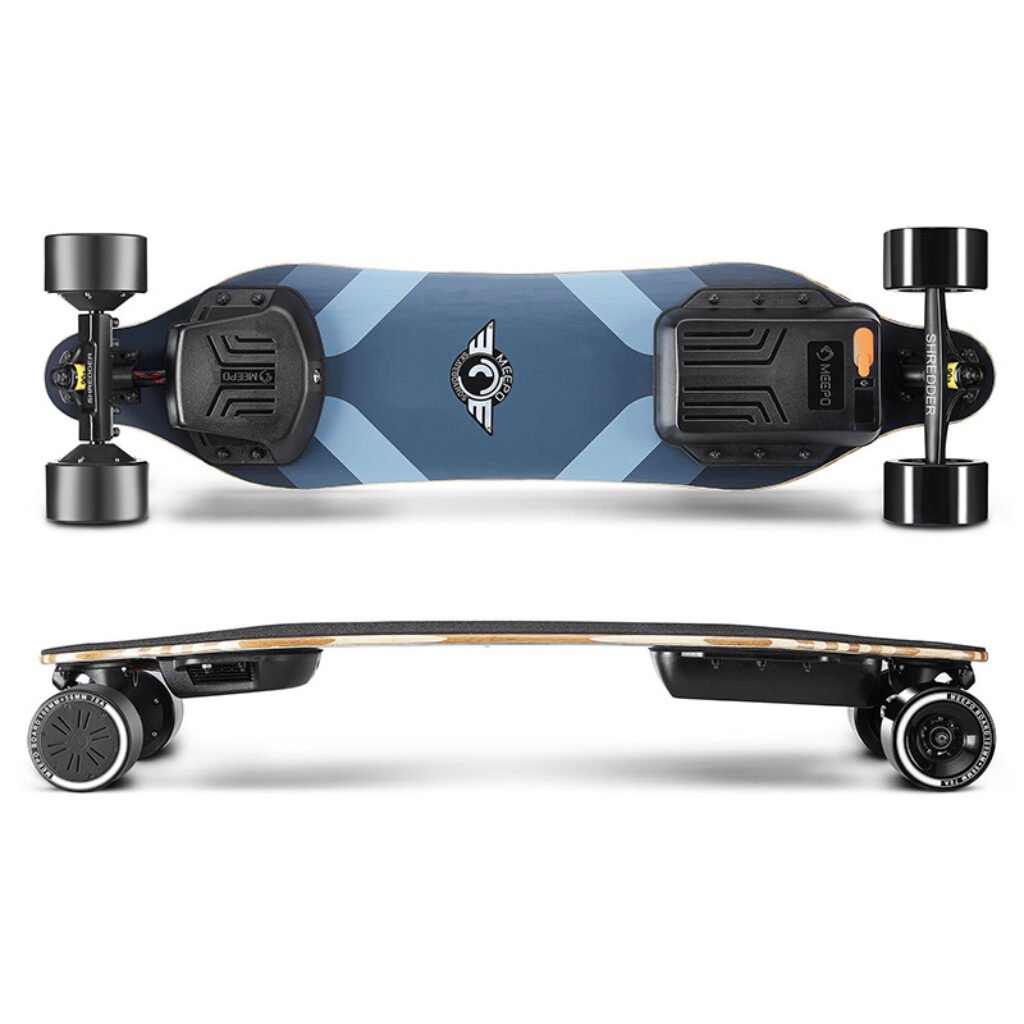 The NLS Pro's deck uses a 7-ply Canadian maple and 2-ply fiberglass composite that provides the right amount of flex for a smoother, more comfortable ride compared to stiffer boards. We love the new ergonomic shape. The large 90mm wheels soak up vibrations well.
This board uses LingYi's updated ESC with thoughtful features like speed-based braking. The handheld remote is comfortable and intuitive. The ABS enclosure protects electronics from weather and impacts. Other nice extras include LED headlights and a handy carry handle.
Pros and Cons
Pros
Great top speed and range for the price
Dual hub motors provide good torque
Flexible deck improves ride comfort
Reliable electronics with updated ESC
Helpful extras like LEDs and handle
Cons
Mediocre maneuverability
Hub motors limit torque for hills
The deck could be stiffer for stability at high speeds
Who It's Good For
With its nimble dual motors, flexible deck, and 14-mile range, it is safe to say in this Meepo electric skateboard review that the NLS Pro is a great choice for commuters or anyone who wants an affordable board for cruising city streets and moderate hills.
Meepo Hurricane Review
Top speed: 32 mph
Range: 31 miles
Motors: Dual 3500W belt drive motors
Battery: 12s4p 44V 10.0Ah 440Wh
Weight: 24 lbs
Overview
As Meepo's high-performance all-terrain board, the Hurricane delivers serious speed and power for shredding trails. It uses a stiffer deck and large pneumatic tires to handle off-road conditions. With a top speed of 32 mph and a range of up to 31 miles, it's significant to note in this Meepo electric skateboard review that the Hurricane doesn't hold back.
Performance
With dual 3500W belt drive motors, the Meepo Hurricane offers loads of power and torque – it devours steep hills with ease. Acceleration and braking are extremely quick and responsive, kicking up dust on trails. The top speed of 32 mph is downright scary at times. The 12s4p battery provides a lengthy 31 miles of range.
The rigid deck and 8″ pneumatic tires allow the Hurricane to power through bumps, cracks, holes, and other rough terrain. The Hurricane carves surprisingly well for an AT board thanks to the double kingpin trucks.
Design and Features
The Hurricane's deck uses a stiff carbon fiber and maple construction to handle rugged off-road riding. The enclosure is rugged and weatherproof. Large 8″ pneumatic tires soak up everything the trail throws at you.
This board comes loaded with extras like a handy carry handle, LED headlights, and brake lights. It's worth considering in this Meepo electric skateboard review that we appreciate the removable battery pack for easy charging. The ergonomic remote has an OLED readout.
Pros and Cons
Pros
Incredible speed and hill-climbing power
Dual belt drive for torque and control
Great 31-mile battery range
Pneumatic tires handle off-road terrain exceptionally
Packed with useful extras like a handle, lights, etc.
Cons
Very heavy at 24 lbs
Expensive $1599 price tag
Who It's Good For
With its rugged build and beefy dual motors, it's fair to assume in this Meepo electric skateboard review that the Hurricane is the top choice for riders who want a high-performance electric skateboard that can shred trails and handle anything the streets throw at it. Just be prepared to shell out for the premium price.
Read on: Meepo Hurricane Ultra Review: A High-Performance E-board Built for Speed and Distance
Riding Experience and Performance
After extensive testing of Meepo's most popular boards, here's our Meepo electric skateboard review of their overall riding performance:
Speed and Power – The more affordable Meepo boards like the V5 top out at about 19 mph, while pricier models like the NLS Pro and Hurricane reach up to 25-28 mph thanks to their dual motor setups. Meepo's hub motor boards offer decent low-end torque, but the Hurricane's belt drive motors deliver exceptional high torque for hill climbing.
Range – Range varies greatly across Meepo's line-up – from 7 miles on the Mini 2 to a lengthy 22 miles on the Hurricane. Real-world range depends on riding mode, hills, and rider weight. Their higher-end boards generally last 15-20 miles.
Ride Comfort – Meepo boards with flexible decks like the V5 and NLS Pro provide good shock absorption for a smooth ride, while the Hurricane's stiff deck transmits more vibration. The large wheels on the NLS Pro and Hurricane also help smooth out bumps.
Stability – At lower speeds, all Meepo boards feel stable and planted thanks to their stiff decks and nice concave shape. The Hurricane feels very locked in at high speed thanks to its stiff deck and pneumatic tires.
Braking – Meepo's LingYi ESC provides smooth, gradual braking across all speed modes. Their boards brake quickly in emergencies but avoid sudden stops.
Maneuverability – The more compact Meepo boards allow for tight turns, while larger boards like the Hurricane are harder to maneuver. Overall carving ability is decent across their line-up.
Features and Accessories
In addition to performance, Meepo electric skateboards come packed with useful features and extras that are worth mentioning in this Meepo electric skateboard review:
Interchangeable PU sleeves – Easily change the PU sleeve on Meepo's hub motors for a different riding feel.
Ergonomic remote – Meepo's remote is comfortable and intuitive to control acceleration, braking, and switching modes.
LED headlights and brake lights – Helpful LEDs provide visibility and safety when riding at night. Included on some boards.
Hub motors vs. belt drive – Meepo offers both gearless hub motors for silence and reduced maintenance, and more powerful belt drives on boards like the Hurricane.
Concave deck – The concave shape keeps your feet locked in for stability and control.
Carry handle – Handles on some Meepo boards make carrying them around easier.
Swappable wheels – The Hurricane lets you switch between street and pneumatic AT wheels.
Removable battery – Easily charge Meepo's batteries away from the board for convenience.
Rugged enclosures – Protects electronics from weather, impacts, etc.
Overall, Meepo boards come with lots of nice features and extras you would expect on premium electric skateboards.
Customer Reviews and Reputation
With over 17,000 reviews on TrustPilot, Meepo has built a pretty solid reputation for delivering quality electric skateboards at affordable prices. Here's a quick breakdown of what customers like and don't like based on Meepo electric skateboard reviews online:
Positive
Great value and price-to-performance ratio
Smooth and easy acceleration
Reliable electronics and remote
Good customer service
Negative
Battery range could be improved
Cheap material quality in some areas
Occasional issues with connections or parts
Most negative Meepo electric skateboard reviews seem to involve rare defect issues, while the majority praise Meepo boards for their value. Customers love the beginner-friendly performance, smooth braking, and helpful customer service.
There are some complaints about cheap plastic parts and battery range, but this is understandable for budget boards. Overall, Meepo has earned a reputation for delivering impressive electric skateboards at very affordable prices.
Meepo Electric Skateboard Review – Final Verdict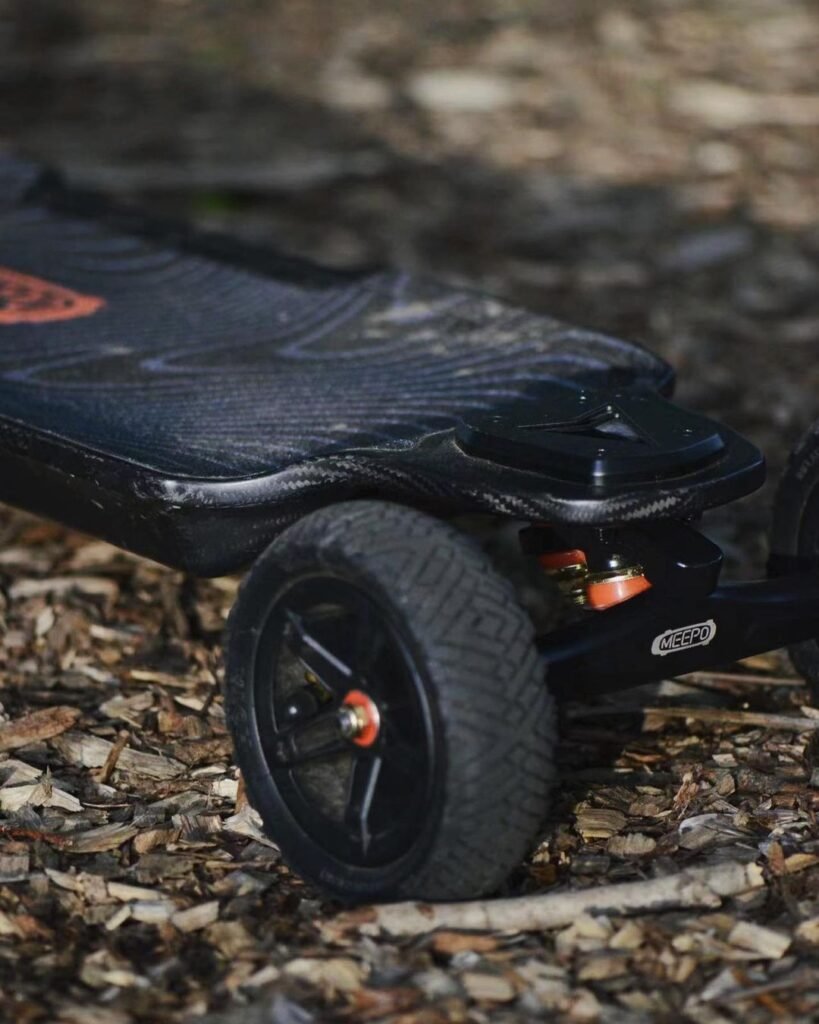 So should you buy a Meepo electric skateboard? Here's the bottom line:
If you want: An affordable, beginner-friendly board for casual riding or commuting short distances, Meepo is a GREAT option. Boards like the V5 and NLS Pro offer good quality and performance for budget pricing.
If you want: A high-performance board for serious speed and shredding hills/trails, you may want to look at more premium brands. Meepo's power is limited, especially for off-road. But the Hurricane gets close for its price.
If you want: A durable long-range commuter board, we'd recommend spending up for something with higher battery capacity. Most Meepo boards max out around 15 miles of real-world range.
For new riders looking to dip their toes into electric skateboarding on a budget, Meepo boards are a fantastic choice. Experienced riders may want more performance, but can consider Meepo's higher-end models.
Be sure to check out meepoboard.com for their latest prices and models. We suggest using the best Meepo coupon codes to get the biggest discounts on your new electric skateboard.