Goo Goo seamless hair extensions are a popular option for anyone looking to add length, volume, and style to their natural hair. Made with 100% human hair, these virtually undetectable extensions promise to blend seamlessly with your locks for a natural-looking way to achieve your dream mane.
But do Goo Goo's clip-in hair extensions live up to the hype? We put them to the test to find out. After extensive hands-on testing and research, here is our detailed review of these seamless hair extensions.
Overview of Goo Goo Seamless Hair Extensions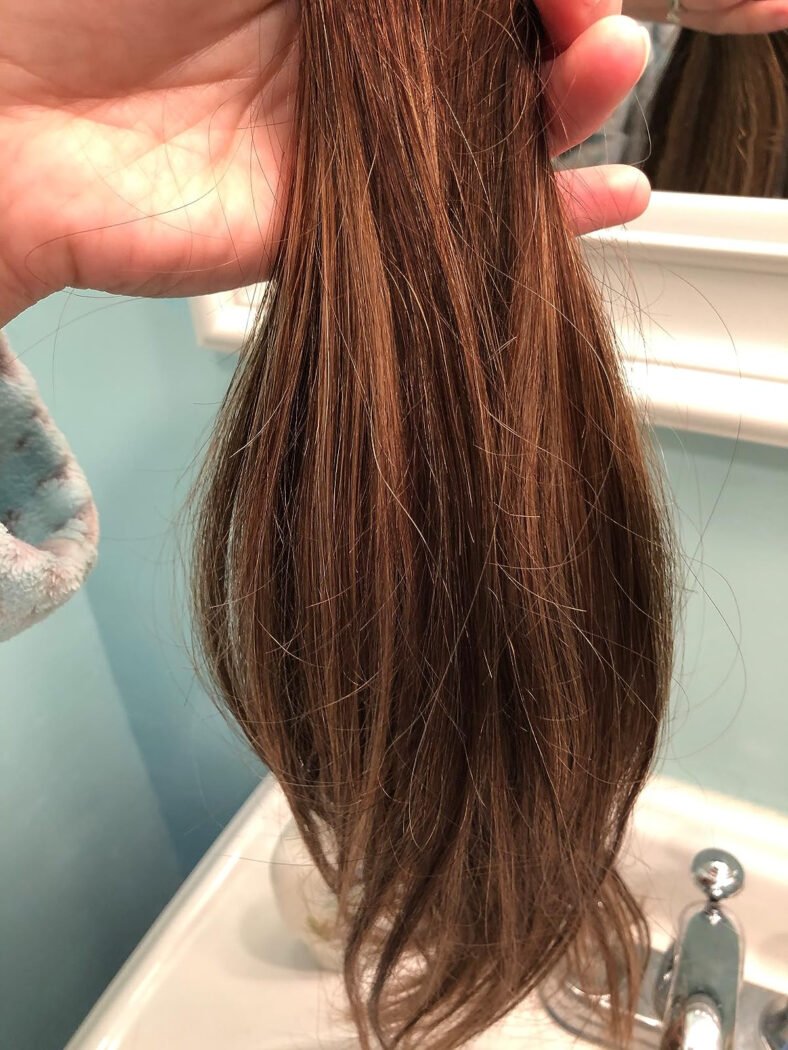 Goo Goo Hair specializes in high-quality yet affordable clip-in hair extensions made from Remy human hair. Their seamless hair extensions are designed with narrower wefts than traditional clip-ins. This helps them lay flatter against the head for a more discreet, undetectable look.
According to the company, Goo Goo's seamless technology creates smooth, tangle-free extensions that blend invisibly with natural hair. They promise no clips or bumps will show even on the finest, thinnest hair.
Goo Goo seamless extensions come in a wide range of colors and lengths to suit different needs. They are made from 100% Remy human hair that can be heat-styled and colored just like your real hair.
Key features:
100% Remy human hair
Seamless weft design for a natural look
Range of colors and lengths
Can be heat-styled and colored
Clips are secure but gentle on hair
Read more: Reviews on Goo Goo Hair Extensions: A Look at Quality, Durability, and Customer Satisfaction
How Goo Goo Seamless Extensions Looked and Felt
We tested Goo Goo's 16-inch 120g seamless hair extensions in chocolate brown. Right away we were impressed with the feel of the quality Remy human hair, which was silky smooth to the touch.
The hair matched seamlessly with our model's color, blending invisibly with no noticeable demarcation line. The seamless wefts laid flat against the head just as promised, with no bumps or evidence of clips even on our fine-haired model.
The chocolate brown shade was a perfect match to our model's natural brunette color. The shade looked rich and natural, not fake or overly processed.
When styled into waves and curls, Remy's hair held the style well without going frizzy. The texture and sheen were indistinguishable from real hair.
Overall, the Goo Goo seamless hair extensions looked and felt like natural hair, with no tangling or shedding throughout our testing. The seamless design lived up to its claims, creating invisible hair extensions that looked 100% real.
How Easy Were Goo Goo Seamless Extensions to Apply and Remove?
A common complaint of clip-in hair extensions is that they can be tricky and time-consuming to put in. We were pleasantly surprised by how quick and easy it was to install the Goo Goo hair pieces.
The clip placement lined up intuitively with our model's natural hair. The ultra-thin seamless wefts are distributed easily and blended imperceptibly in just minutes.
Because the clips are gentle and adjustable, attaching the Goo Goo extensions caused no damage or pulling to our model's fine, fragile stands. The strategic positioning of the clips felt secure while avoiding pressure points.
Throughout the day, the extensions stayed put perfectly with no slipping or readjusting required. Removal was just as quick and painless as application.
For those who want a more permanent option, Goo Goo's detachable clips can be swapped out for adhesive tape. But the ultra-secure clips eliminated the need in our experience.
Overall, the Goo Goo seamless hair extensions took just minutes to install invisibly, and no professional help was required.
How Much Length and Volume Did Goo Goo Seamless Add?
Our model's hair was collarbone length and fine before adding the 16-inch Goo Goo seamless extensions. Her hair fell just past her shoulders.
After adding the extensions, our model's hair instantly extended to the middle of her back for dramatic length in minutes. She gained approximately 5 inches of hair thickness and volume from root to tip.
The lightweight design of the seamless wefts added clear length and fullness without weight. Our model noted the extensions felt as light and airy as her natural hair. There was no heaviness or headache-inducing pull.
For those with thin, limp hair, the Goo Goo seamless hair extensions added noticeable density and swing. The extended length created elegant new styling options, from braids to blowouts.
If dramatic length isn't your goal, Goo Goo's shorter and lighter-weight options can provide a subtle boost of body and movement without overwhelming fine hair.
Durability and Maintenance of Goo Goo Extensions
Durability is a big concern with hair extensions. Weak points like clips and weft stitching can lead to breakage, shedding, and a short lifespan.
Throughout our testing, the Goo Goo seamless hair extensions showed no signs of damage or deterioration. The Remy human hair felt strong and resilient when brushed, heat-styled, and handled.
Goo Goo says their unique seamless weft construction and multi-layered reinforced stitching prevent shedding and breakage even with repeated use. We found no loose hairs or weak points to indicate shedding potential even with regular handling.
The adjustable snap clips stayed securely gripped to the hair without losing tension. And the smooth seamless wefts showed no signs of wear, leaving natural hair undamaged.
To keep Goo Goo seamless hair extensions looking their best, gentle handling and proper storage are recommended. Avoid over-brushing, harsh brushing, or handling when wet. Allow to fully air dry before storing folded in the clear plastic packaging.
With proper care, Goo Goo's quality construction appears durable enough for long-term use. Just be gentle, minimize heat, and allow to air dry to preserve the lifespan.
Goo Goo Seamless Extensions: Pros and Cons
After extensive testing of Goo Goo seamless hair extensions, here are the main pros and cons we found:
Pros
Made from silky, real Remy human hair
Seamless wefts are invisible even on thin hair
Lightweight and comfortable for all-day wear
Add noticeable length and volume
Easy clip-in application takes just minutes
Can be heat-styled and colored
Multi-layer construction prevents shedding
Durable and long-lasting with proper care
Cons
More expensive than synthetic blends
Still requires gentle handling to prevent damage
Can't be washed and reused like tape-in extensions
Need regular removal for proper scalp health
While not cheap, Goo Goo's 100% Remy hair extensions are affordable for the quality compared to salon brands. With proper maintenance, they should last 6 months or more depending on the frequency of use, making them a cost-effective option.
Are Goo Goo Seamless Hair Extensions Worth Buying?
For those seeking an easy way to add length, volume, and style to their natural hair, Goo Goo seamless clip-in extensions deliver on their claims. Their unique seamless wefts lie flat and blend beautifully for an undetectable look.
The high-quality Remy human hair mimics real hair while allowing heat styling and coloring. The adjustable clips are gentle on hair while keeping extensions securely in place.
While no clip-ins compare to permanent salon extensions, Goo Goo's thoughtful design makes these some of the easiest, most natural-looking clip-ins we've tested. For an affordable at-home solution, they earn our recommendation.
Where to Buy Goo Goo Seamless Hair Extensions
Goo Goo seamless extensions are available for purchase exclusively through the company's website googoohair.com. They offer worldwide shipping.
The website makes it easy to select the perfect color and length for your needs. Swatches show each shade on models with different complexions and hair colors.
Keep an eye out for these Goo Goo promo codes and coupons to save on their 100% Remy hair extensions. Signing up for email alerts can help you snag the best discounts on your purchase.
For seamless, natural-looking extensions without the salon price tag, Goo Goo hair is worth considering. Their quality construction and thoughtful design create easy, fuss-free hair extensions suitable for first-time users and experts alike.
Frequently Asked Questions About Goo Goo Seamless Hair Extensions
How long will Goo Goo hair extensions last?
With proper maintenance and gentle handling, Goo Goo says their 100% Remy human hair extensions can last 6 months or longer. Avoid overuse of heat styling, harsh brushing, and getting them wet often to preserve the lifespan.
Can I reuse Goo Goo clip-in extensions?
Goo Goo seamless extensions are designed for single use as clip-ins. The adjustable snap clips allow the hair to be taken out and re-clipped in as needed. But unlike tapes or sew-ins, they cannot be washed, dried, and reused multiple times.
Will Goo Goo extensions work with thin/fine hair?
Yes, Goo Goo's seamless clip-in design is specially engineered to lay flat on even the finest and thinnest hair types. The narrow wefts and lightweight hair pieces ensure an invisible look without bulk.
Do I need professional help installing Goo Goo extensions?
Goo Goo's easy clip-in design allows anyone to self-install seamlessly at home in minutes. No special tools or salon visits required. Simply part hair cleanly and snap clips into place.
Can I curl and straighten Goo Goo human hair extensions?
Yes, the 100% Remy human hair can be heat-styled and colored just like natural hair. Use temperatures under 400°F and heat protectant spray to minimize damage over time.
Conclusion
For quality hair extensions that blend beautifully, Goo Goo seamless hair extensions are worth considering. Their 100% Remy human hair provides a natural look and feel while the special seamless wefts ensure an invisible, undetectable install.
Just take care not to over-style and handle gently, and Goo Goo's thoughtful design promises to deliver luscious, easy length and volume. With the right care and maintenance, Goo Goo seamless extensions can become your go-to hair secret for flawless style and envy-inducing locks.