Frizzlife SK99 Review: A Closer Look at This Under-Sink Water Filter
Finding an under-sink water filter that provides exceptional contaminant removal without costing a fortune can be a challenge. The Frizzlife SK99 aims to deliver premium filtration performance while remaining budget-friendly.
In this in-depth Frizzlife SK99 review, we'll examine how this three-stage under-sink filtration system performs to help you determine if it's the right choice for your home.
Overview of the Frizzlife SK99
The SK99 is an under-sink water filter from Frizzlife, a company known for making affordable and effective water purification products. It uses a multi-step filtration process to reduce contaminants in water while retaining healthy minerals.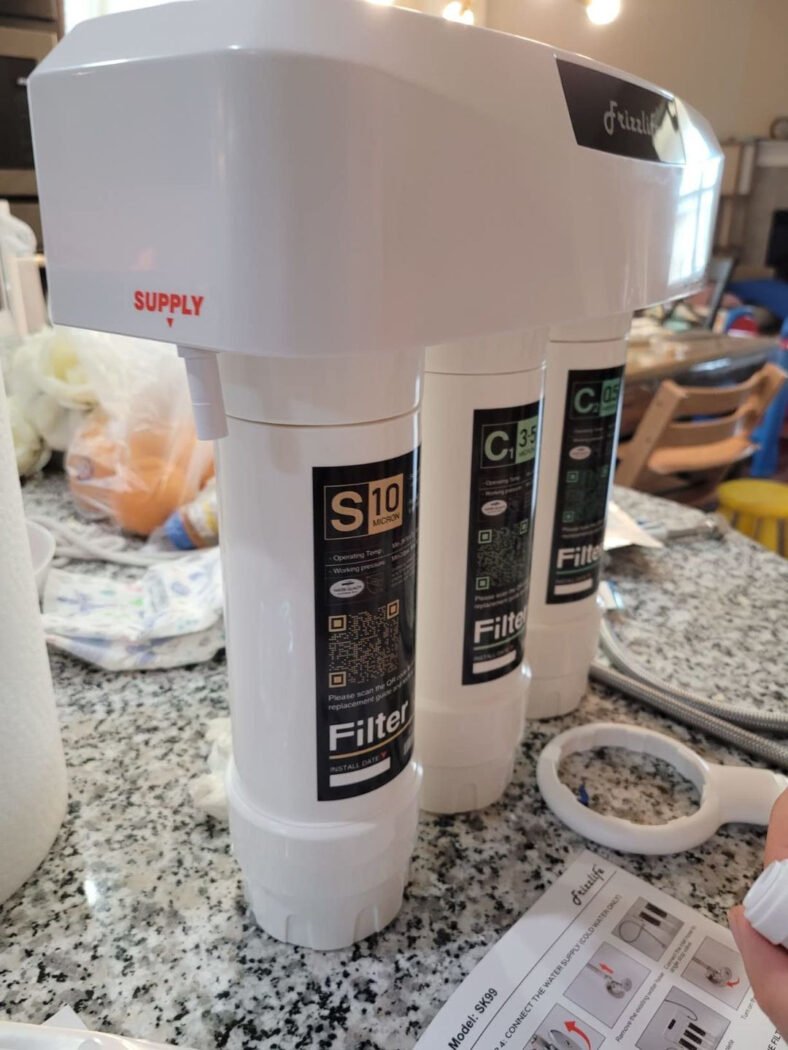 Some key features and benefits of the Frizzlife SK99 include:
Three-stage filtration to remove up to 99% of impurities
Filters water at 0.5 microns
NSF certified to reduce lead, chlorine, taste, odor, and more
High flow rate of up to 2 gallons per minute
Easy tool-free installation in 15 minutes
Space-saving compact design
Retains beneficial minerals like calcium and magnesium
Reduces plastic bottle waste and cost
According to Frizzlife, the SK99 provides premium purification power in a convenient under-sink system. But does performance align with the claims? In this Frizzlife SK99 review, let's take a closer look.
How the Frizzlife SK99 Performs
To determine how well the SK99 works, we'll examine its filtration effectiveness, flow rate, certifications, and more based on available information.
Filtration System
The core of this under-sink filter is its three-stage filtration process:
Stage 1 uses an activated carbon block filter to reduce chlorine, odors, volatile organic compounds (VOCs), and other chemicals through a process of adsorption.
Stage 2 utilizes an ion exchange resin filter to capture heavy metals including lead, mercury, copper, cadmium, and zinc.
Stage 3 features a 0.5-micron filter that traps any remaining particulate matter down to 0.5 microns in size.
This system allows the removal of a wide spectrum of contaminants from water. According to Frizzlife, the SK99 can eliminate 99% of impurities thanks to this combination of filters.
While it doesn't fully purify water like reverse osmosis systems, it's worth mentioning in this Frizzlife SK99 review that customers say the product makes a noticeable improvement in the taste, odor, clarity, and safety of the water.
Water Flow Rate
The Frizzlife SK99 is designed to deliver a high flow rate for an under-sink system.
It has a rated service flow of 2.0 gallons per minute (GPM) at 60 PSI. In real-world use, the flow rate ranges from 1.8 to 2.0 GPM based on home water pressure.
This high flow provides a steady stream of filtered water without much waiting. The SK99's flow rate surpasses cheaper under-sink models that can be quite slow.
It's important to mention in this Frizzlife SK99 review that consistent water flow is useful for filling up glasses or pots without delays, according to users. This makes the SK99 more convenient to use daily.
Filtration Certifications
The Frizzlife SK99 has been independently tested and certified to ensure filtration safety and effectiveness.
It is certified by NSF International against standards 42 and 53. NSF 42 certification verifies the filter reduces aesthetic contaminants like chlorine for better taste and odor. NSF 53 certifies the system reduces health contaminants like lead and mercury.
It's worth noting in this Frizzlife SK99 review that these certifications indicate the SK99 has been rigorously tested to perform as advertised. Users can feel confident in the system's ability to provide cleaner, safer water.
Easy Installation
Undersink systems can sometimes be challenging to install. But the SK99 is designed for quick, easy setup without a plumber.
Installation typically takes 15 minutes or less with the included step-by-step instructions and requires no special tools. Everything needed for setup is in the box.
The process consists of connecting the color-coded tubing to the filter, attaching it to the main faucet line, inserting the filters, and mounting the unit under the sink.
Reviewers confirm the installation is straightforward and can be handled by most DIYers without issues. The quick connect fittings help simplify the process.
Overall, the Frizzlife SK99 delivers solid performance for an under-sink water filtration system. While it doesn't completely purify water like reverse osmosis, the SK99 provides noticeable improvements in water quality, taste, odor, and safety for an affordable price.
Read on Frizzlife Reverse Osmosis Review: A Thorough Evaluation of Frizzlife's RO Water Filtration Systems
Design of the Frizzlife SK99
In addition to performance, the design of an under-sink filter impacts its convenience and ease of use. Here are key details on the design worth emphasizing in this Frizzlife SK99 review:
A compact 14.5 x 5.2 x 17.5-inch footprint fits under most sinks
360° swivel faucet with minimalist style
Built-in valve allows toggling between filtered and unfiltered water
Quick connect fittings for simple filter changes
Durable construction for long-term reliability
The SK99 has a utilitarian focus, prioritizing function over form. Reviewers are pleased with the compact size that saves cabinet space. The swivel faucet provides added convenience.
While not the flashiest system, the SK99's design works well for an effective and affordable under-sink filter.
Maintenance of the Frizzlife SK99
Like any filter system, the SK99 requires occasional maintenance to keep it performing optimally. It's significant to note in this Frizzlife SK99 review what's involved in maintaining the system:
Filter capacity is 6-12 months depending on usage and water quality
Replacing filters is quick and easy, no tools required
The filter cartridge simply pops in and out for replacement
An LED light indicates when it's time to change the filter
Frizzlife app provides alerts for filter changes
The convenience of being able to swap out just the filter cartridge rather than the whole housing makes maintenance simple. The LED light and app integration also streamline upkeep.
Overall, the SK99 is designed to minimize maintenance requirements for the user.
Who Is the Frizzlife SK99 Good For?
The SK99 can benefit a variety of households looking for cleaner water without high costs. It's a good option for:
Renters: An affordable under-sink system that is easy to install and doesn't require permanent modifications.
Families: Great for providing cleaner, healthier water for drinking and cooking.
City dwellers: Removes chlorine, chemicals, and sediment from municipal tap water.
Well water users: Filters out common well water contaminants for better taste and odor.
Eco-conscious folks: Eliminates plastic water bottle waste and pollution.
For those seeking high-end reverse osmosis purification, it's relevant to point out in this Frizzlife SK99 review that the product may not be robust enough. But for basic water filtration needs, it delivers admirably according to most reviews.
What Users Are Saying About the Frizzlife SK99
With thousands of units sold, there are many real-world reviews of the Frizzlife SK99 under-sink filter system. Here's what users highlight in their feedback:
"The water tastes so much better now. No more chlorine flavors."
"Good water flow rate and easy installation. Way better than my old system."
"You can really notice a difference in the clarity and purity of the water coming out of the tap."
"Installation was a breeze. I hooked it up myself in maybe 10 minutes without any issues."
"Seems to be doing a good job filtering out sediment and odors. Water looks and smells much cleaner now."
"Customer service was very helpful when I had a question about the installation."
While a few reviewers have gripes about the all-plastic construction, it is safe to say in this Frizzlife SK99 review that most are very pleased with the performance, especially given the affordable price point.
The Pros and Cons of the Frizzlife SK99
Based on reviews and product information, here is a summary of the pros and cons of the Frizzlife SK99:
Pros:
Delivers cleaner, better-tasting water
Removes a wide range of contaminants
NSF-certified filtration system
High water flow rate
Easy 15-minute installation
Space-efficient under-sink design
Low maintenance requirements
Retains healthy minerals in water
Very affordable price point
Cons:
Not as thorough as reverse osmosis systems
All-plastic construction feels less durable to some users
Replacing filters can get expensive over time
Lower contaminant removal than high-end filters
While the SK99 isn't on par with top-tier filtration systems, we can confidently say in our Frizzlife SK99 review that it outperforms just about any competitor in its class. For budget-minded households, the pros seem to far outweigh the cons.
Is the Frizzlife SK99 the Right Choice for You?
For homeowners seeking a solid under-sink water filter that improves taste and odor while removing common contaminants, the Frizzlife SK99 is an excellent option.
This system combines proven three-stage filtration with convenient installation and maintenance. While not the most advanced system available, it delivers very good performance for the money based on Frizzlife SK99 review opinions from customers.
The Frizzlife SK99 is a great choice for rental properties, apartments, RVs, and other applications where whole house systems aren't an option. For run-of-the-mill filtration needs, it gets the job done admirably.
Before you buy, be sure to check Frizzlife's website for more details. With these Frizzlife coupon codes, you can likely save substantially on this effective under-sink filtration system.
Frizzlife SK99 Review: The Bottom Line
The Frizzlife SK99 provides reliable water filtration and purification without breaking the bank. Its ability to remove chlorine, particulates, heavy metals, and other contaminants makes water taste and smell better while being safer for drinking.
While it lacks the thoroughness of reverse osmosis systems, the SK99 gets high marks for its straightforward installation, durable design, and affordable price. For those seeking an entry-level under-sink water filter that gets the basics right, the SK99 is a great option worth considering.