If you're looking for an at-home massage experience that provides professional-grade relief, Cloud Massage aims to deliver. This company specializes in Shiatsu massage devices designed for the busy individual. Their goal is to bring the ancient healing art of Shiatsu to your personal space.
But are their products worth the investment? Do they really provide an experience comparable to visiting a massage therapist? This Cloud Massage review will give you the details to decide if their massage devices are right for you.
Let's dive right in.
Overview of Cloud Massage
Cloud Massage was launched in 2017 with the mission to give people access to rejuvenating Shiatsu massage in the comfort of their homes. Their inspiration came from the centuries-old Japanese practice of using finger pressure along the body's meridian lines to relieve pain and tension.
The company set out to recreate this targeted massage technique through technology. Their flagship product became the Cloud Massage Shiatsu Foot and Calf Massager. This unit aims to emulate the kneading and rolling movements of a Shiatsu massage on your lower legs and feet.
It's relevant to point out in this Cloud Massage review the range of products the company offers like massage pillows, percussion massagers, and reflexology slippers. However, the Shiatsu foot massager remains their most popular and well-reviewed item.
Main Features of the Cloud Massage Shiatsu Foot Massager
The Cloud Massage Shiatsu Foot Massager features several modes and customization options to tailor the experience to your needs:
3 Massage Techniques – The massager combines compression, rolling massage, and a sway function to target different muscle groups.
Adjustable Heat – Switch on the heating function to enhance relaxation. Control the temperature based on your preference.
5 Intensity Levels – Select from 5 intensity levels to control the force of the massage. Higher settings provide deeper tissue relief.
Programmable Timer – Set the massage duration in 15-minute increments up to 1 hour.
Vibration Mode – Turn on vibration to stimulate blood circulation in the feet.
The massager is encased in a lightweight microfiber cover intended to feel soothing against the skin. An easy-to-use control panel lets you switch massage modes and functions as desired.
With its variety of massage techniques, heat, intensity levels, programmable timer, and vibration, this Cloud Massage review shows the Shiatsu Foot Massager offers extensive customization options.
Read on: Cloud Massage Shiatsu Foot Massager Review: A Luxury Massager Worth the Investment?
Key Benefits of Cloud Massage Products
Customers choose Cloud Massage devices for the convenience and versatility they provide. Benefits users highlight include:
Pain and Tension Relief – The Shiatsu kneading replicates manual techniques to relax tight muscles. Many find it effective at relieving foot and calf pain.
Increased Circulation – The heat and vibration settings enhance blood flow. This provides a therapeutic effect.
Stress Relief – A 15-minute massage can melt away tension and induce relaxation. The soothing sway mode enhances this.
Treatment for Foot Conditions – Those with plantar fasciitis and neuropathy in the feet praise the massager for reducing discomfort.
This Cloud Massage review demonstrates their massage devices provide key benefits like pain relief, improved circulation, stress relief, and treatment for foot conditions.
For busy individuals, having a massage device at home makes it convenient to enjoy these benefits anytime.
Are Cloud Massage Products Easy to Use?
A major selling point of the Cloud Massage Shiatsu Foot Massager is its simplicity. The device comes fully assembled. Just plug it in, take a seat, and slip your feet in.
The controls offer a user-friendly interface. All the modes and settings are adjustable from the LCD display screen. Switching between functions is seamless.
Cloud Massage also provides an instruction manual if you need guidance. And their customer service team is available to answer questions.
It's worth mentioning in this Cloud Massage review that with intuitive controls and a fully assembled design, most find the massager extremely intuitive to operate right out of the box. It's designed for relaxation while the device does all the work for you.
Range of Products from Cloud Massage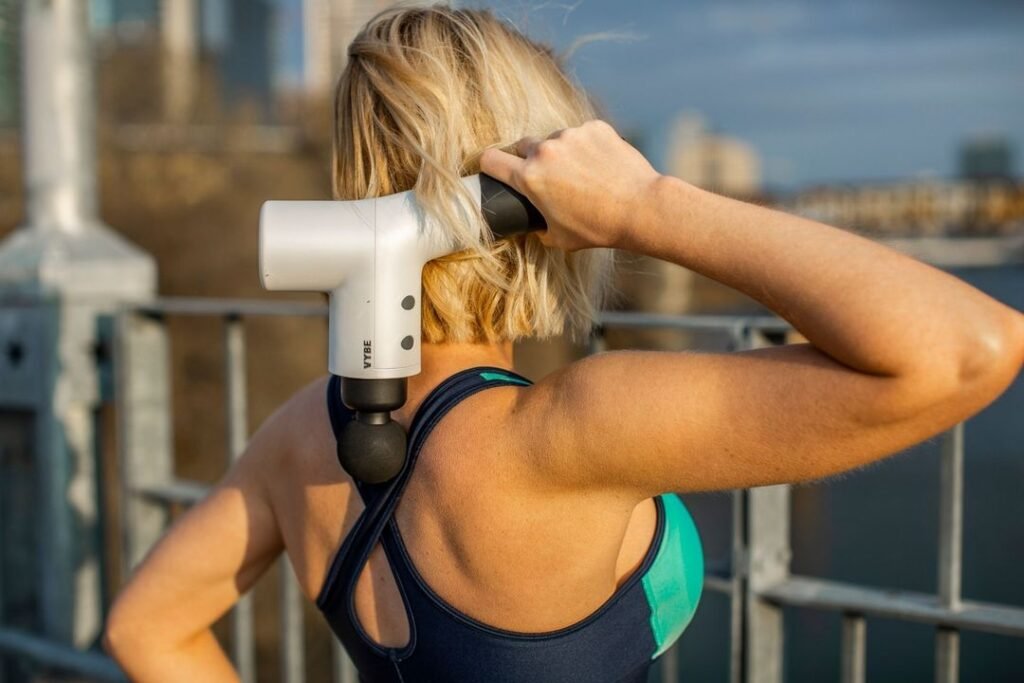 While the Shiatsu Foot Massager is the star, Cloud Massage offers other products to meet different needs:
Shiatsu Foot, Leg, and Calf Massager with Remote – This version includes a wireless remote for controlling the massager.
Acupressure Slippers – Wear these slippers to enjoy reflexology massage. They apply pressure to specific points on the feet.
Percussion Massage Gun – This portable device uses a punching technique to loosen tight tissues.
Luxury Bath Pillow – This inflatable pillow lined with acupressure nodes provides neck and back massage in the tub.
Shiatsu Neck and Back Massagers – Cloud Massage offers several pillow-style massagers designed for the upper body.
While the Shiatsu Foot Massager is the most popular, this Cloud Massage review shows they also offer massagers for other body parts, percussion massage guns, and more.
So while foot massage is their specialty, they have solutions for massaging other areas as well.
What Makes Cloud Massage Stand Out
Cloud Massage stands apart for bringing a luxurious Shiatsu experience into your home. Here's what makes them unique:
Recreates Shiatsu Technique – The rolling and kneading mimic targeted manual massage. The compression therapy emulates acupressure.
Total Customization – With variable modes, heat, intensity, and duration, you can fully personalize each session.
Easy to Use Design – The massager doesn't require assembly and has intuitive controls.
Quality Materials – The microfiber cover and other materials give it a high-end feel.
Responsive Customer Service – Their helpful team assists with product questions and concerns.
It is safe to say in this Cloud Massage review that for those seeking professional-grade massage at home, this brand replicates the experience better than most competitors.
Who Can Benefit from Cloud Massage Products?
While anyone can use a Cloud Massage device, some users benefit more than others:
Those with Foot Pain – People with plantar fasciitis, neuropathy, arthritis, and other foot problems praise the relief it provides.
Athletes – The massager promotes muscle recovery and circulation for active individuals.
Those On Their Feet All Day – Nurses, teachers, and retail workers find regular use reduces discomfort.
Stressed Out People – Anyone can use it to unwind, but it's especially helpful for people with chronic stress.
Seniors – The elderly often experience poor circulation, making the massager therapeutic.
This Cloud Massage review indicates those with foot pain, athletes, people on their feet all day, stressed individuals, and seniors can benefit most from their massage devices.
So if you fit one of these categories, a Cloud Massage product could provide significant relief and relaxation.
Customer Reviews: The Good and Bad
Cloud Massage Shiatsu massagers earn largely positive reviews, but also have some negative feedback:
Pros Highlighted in Cloud Massage reviews:
"The massage they provide is heavenly."
"My feet have never felt so relaxed."
"It provides amazing relief for my plantar fasciitis pain."
"Super easy to use right out of the box."
"The rollers give an amazing deep tissue massage."
Common Complaints from Customers:
"It's extremely loud when in use."
"The heat setting doesn't get very warm."
"I wish the massage duration was longer than 15 minutes."
"It's bulky and difficult to store."
"The lack of a remote control is inconvenient."
Cloud Massage reviews agree the actual massage function and pain relief are impressive, but some wish improvements were made in areas like noise level and portability.
How Much Do Cloud Massage Products Cost?
Given the advanced technology and design, Cloud Massage products are priced higher than basic models:
The Shiatsu Foot Massager costs $299. But it's frequently on sale for $200.
The Shiatsu Foot and Calf Massager with Remote normally retails for $320. It's often discounted to $260.
The Acupressure Slippers cost $40.
Their percussion Massage Gun goes for $200.
While pricier than some options, most feel the performance justifies the cost. The products stand the test of time and provide frequent relief.
Cloud Massage Review: Final Verdict
At the end of the day, Cloud Massage Shiatsu massagers earn their popularity thanks to their ability to recreate the feel of a professional massage at home.
The positives include:
An incredibly life-like Shiatsu kneading experience
Total customization over the massage settings
Proven relief of foot and calf pain
High-quality materials for comfort and relaxation
Downsides to consider:
The noise level can be disruptive
Limited heat function
Short massage duration
Lack of portability
So if you aren't bothered by a little noise, don't need extreme heat, and want targeted relief for 15 minutes at a time, a Cloud Massage product delivers on its promise.
Just be sure to explore all the customization options to optimize your experience. Take advantage of these updated coupons when buying from the Cloud Massage website to get the best price.
Overall, Cloud Massage Shiatsu massagers live up to their reputation for providing professional-quality relief and relaxation you can enjoy on your schedule. For many, the benefits justify the investment into one of these at-home massage solutions.