CircuitMess is an innovative company that's bringing DIY electronics and coding to learners of all ages. Through their subscriptions and standalone kits, CircuitMess aims to make STEM education hands-on, engaging, and most importantly – fun.
In this CircuitMess review, we'll provide an in-depth look at their various product lines and flagship kits. We'll highlight the key features and learning outcomes of CircuitMess products. We'll also discuss the pros and cons based on customer feedback. Finally, we'll offer recommendations on the best CircuitMess kits for different audiences.
So, keep reading if you're looking for an engaging way to learn electronics and programming hands-on.
An Overview of CircuitMess Products
Founded in 2017, CircuitMess offers a variety of DIY tech projects that aim to foster a love for electronics, engineering, and programming. Their products include subscriptions, individual kits, and standalone devices.
CircuitMess takes a learn-by-doing approach. As you assemble the kits, you gain hands-on experience with concepts like soldering, electronics components, microcontrollers, and digital circuits. The kits also introduce beginners to embedded programming through a block-based coding interface.
Overall, CircuitMess aims to make STEM education fun and engaging. Their products allow you to build cool, functional gadgets while picking up valuable technical skills along the way.
CircuitMess Review of Subscription Boxes
There are two main subscription lines – the STEM Box and Wacky Robots. In this CircuitMess review, let's look at what each subscription offers:
STEM Box Subscription
The STEM Box subscription targets users ages 11-99. It includes three different kits per quarter that teach various technology concepts:
Spencer DIY Voice Assistant: Focuses on AI, voice recognition, and speech synthesis. You build your own voice assistant gadget.
Bit DIY Game Console: Teaches computer graphics, Python programming, and video game design. You can create and code games for the console.
Synthia DIY Digital Music Sampler: Covers digital sound production and music sampling. Lets you create and remix music.
Through assembling these kits, users gain exposure to key STEM disciplines like engineering, programming, and sound production. The DIY process offers hands-on learning and a sense of achievement.
"I purchased the STEM Box for my 14-year-old son who loves technology. The subscription is totally worth it – he's learned so much from building the kits and coding games for the DIY game console." – CircuitMess review from a STEM Box customer
Read on: CircuitMess STEM Box Review: A Comprehensive Hands-On Learning Experience
Wacky Robots Subscription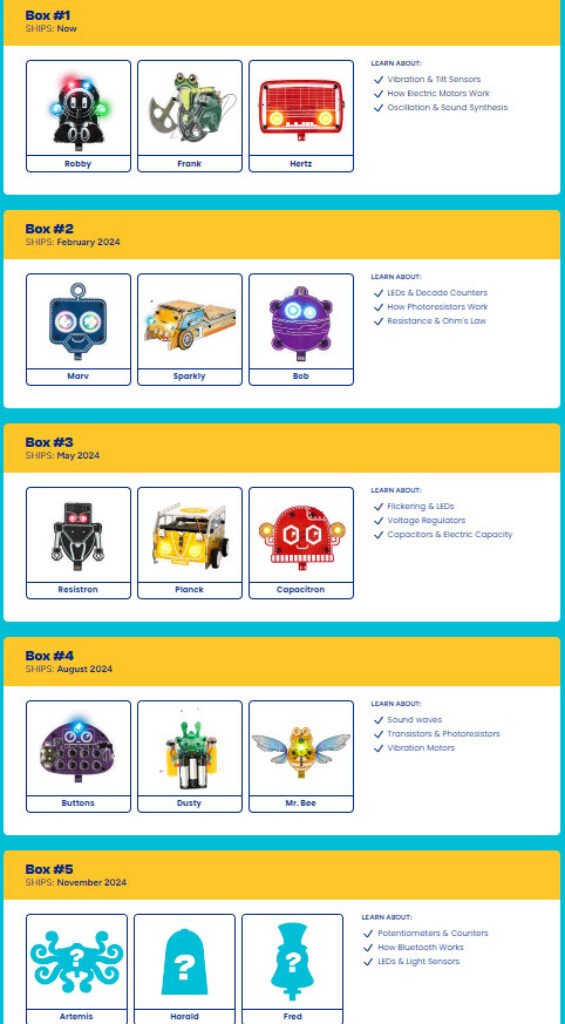 Wacky Robots targets kids ages 9-11. The subscription includes one kit per month that explores the engineering and technology behind everyday devices:
DIY cellphone
Voice assistant
Remote-controlled car
DJ mixer
Other gadgets
These projects introduce young learners to core concepts like circuits, electronic components, and microcontrollers. The kits start simple and advance to more complex builds over time.
"My 10-year-old daughter loves putting together the Wacky Robots kits each month. It's been amazing seeing her light up and take interest in technology." – CircuitMess review from a Wacky Robots customer
Through fun gadget builds, the Wacky Robots track lays the foundation for future STEM learning.
CircuitMess Review of Flagship Products
In addition to subscriptions, CircuitMess offers several standalone kits and devices. Some of the most popular products worth mentioning in this CircuitMess review include:
CircuitMess BatmobileTM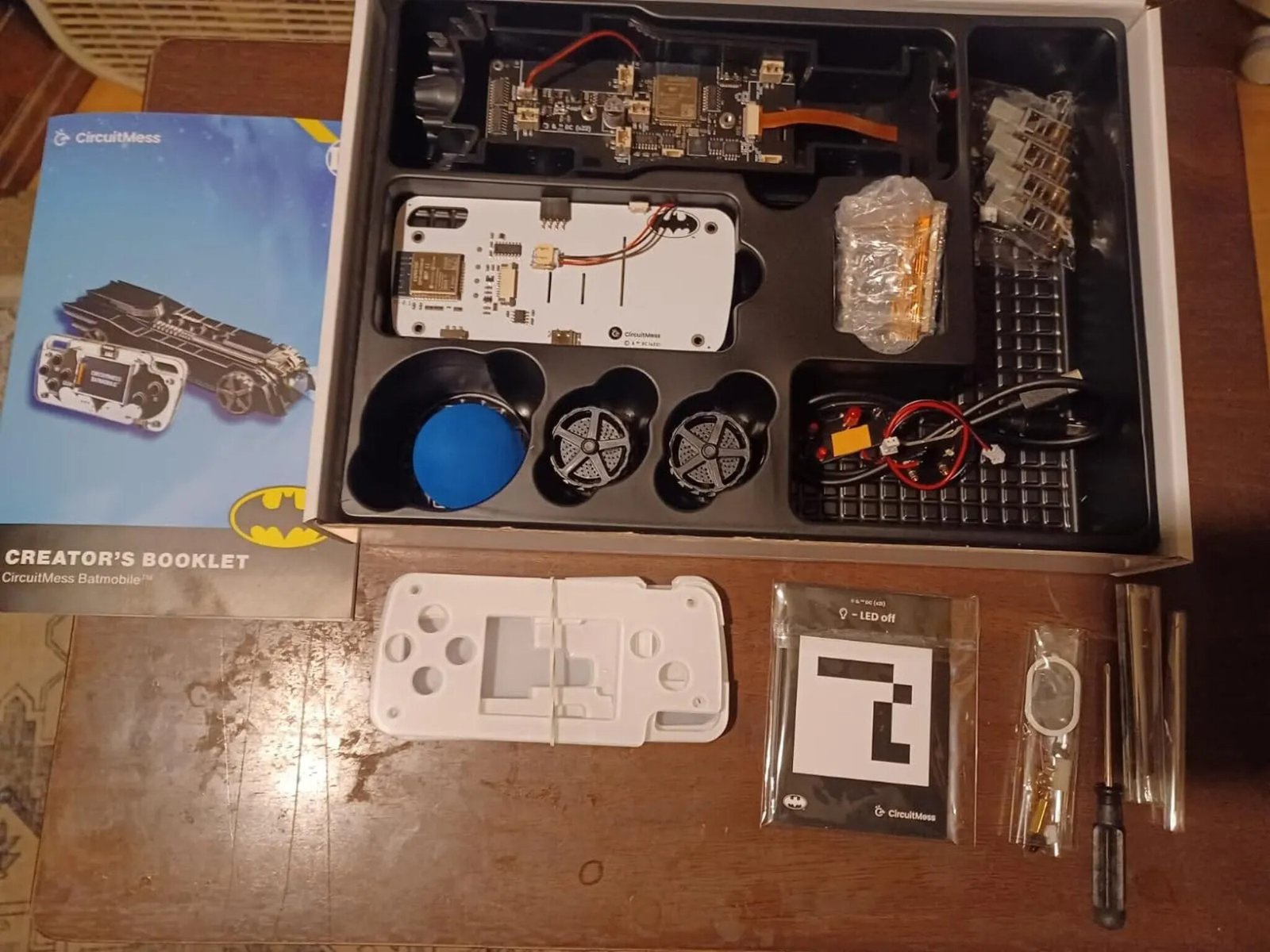 This DIY robot car combines artificial intelligence and hands-on engineering. The kits contain over 322 components that you assemble to build a fully functional autonomous vehicle.
As you construct the Batmobile, you learn mechanics, electronics, and programming. The kit brings multiple technical disciplines together in one engaging, screen-free project.
Ringo DIY Mobile Phone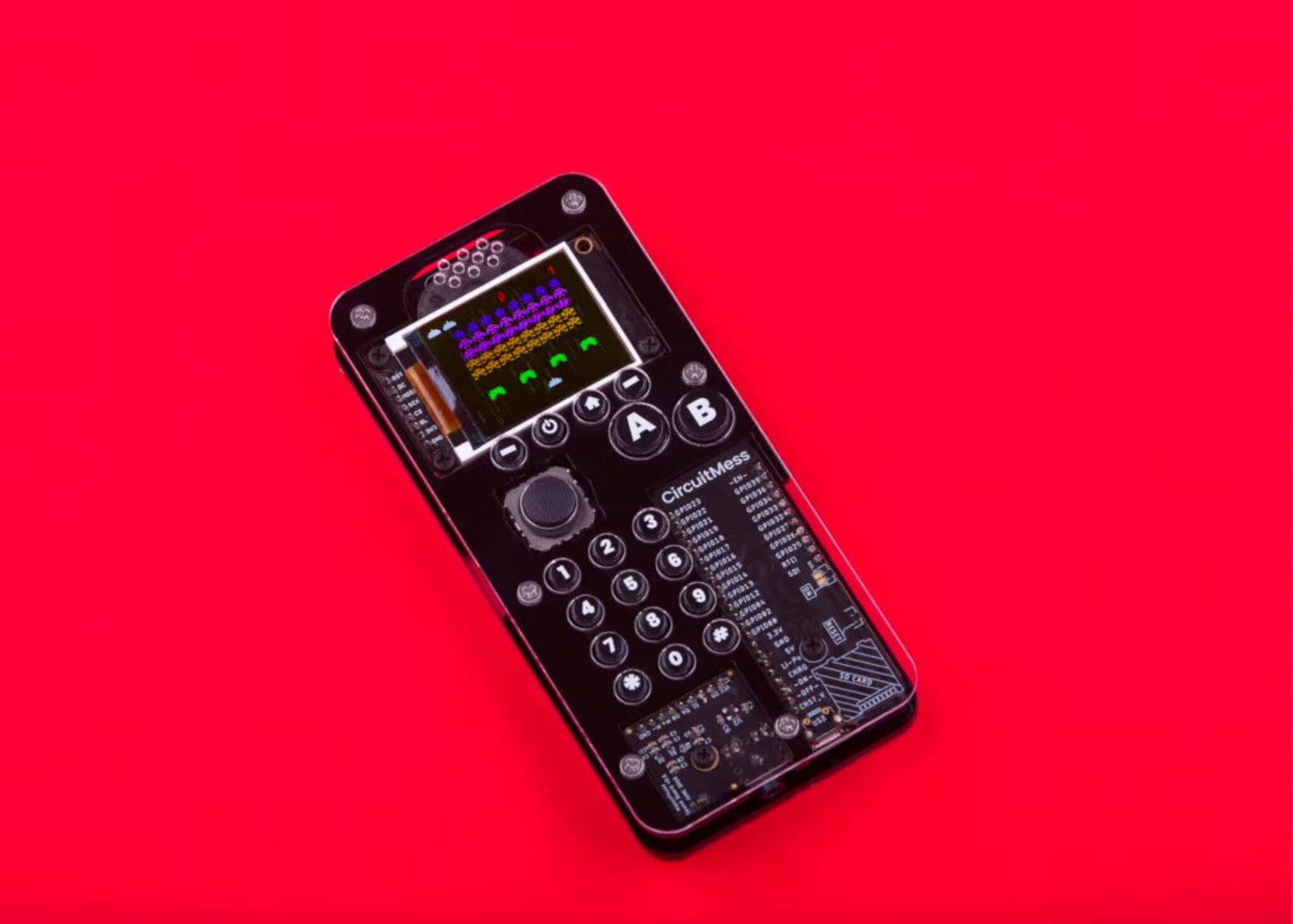 Ringo allows you to build your own cell phone from scratch. The kit teaches electronics assembly as you solder components like the display, soundboard, and microcontroller.
Ringo also introduces programming. Using the Arduino IDE, you can code custom apps and games for your DIY phone.
Synthia DIY Digital Music Sampler
Synthia lets you build your own musical sampler/synthesizer while learning about digital audio concepts. It combines a sampler, sequencer, drum machine and synth in one customizable device.
The kit allows you to both learn about and create electronic music from scratch. Users can record and manipulate original sounds using the built-in microphone.
These standalone kits represent CircuitMess's goal of fostering STEM skills through building cool, practical gadgets.
Coding Interface Promotes Programming Skills
One unique aspect of the kits worth emphasizing in this CircuitMess review is the block-based coding interface. This visual programming platform is powered by Google Blockly. It allows you to assemble code blocks instead of writing code manually.
The block interface gets beginners started with embedded programming concepts. You can create code to control devices like DIY game consoles. This hands-on coding process helps enforce programming principles taught in the kits.
CircuitMess's coding platform is central to their mission of making STEM education accessible and engaging. Users learn programming by applying it hands-on to electronics projects.
CircuitMess Review: What Are The Pros and Cons?
CircuitMess kits offer a balance of fun and learning. But how do the products hold up according to customers? Here are some pros and cons of CircuitMess based on user reviews:
Pros
Educational value: Customers praise the real-world STEM skills gained from building the kits. Kids and adults learn valuable electronics and programming concepts.
Quality and design: Reviews state the kits are sturdy and well-designed. The modern, sleek aesthetic makes projects fun to assemble.
Community support: An active user forum allows customers to ask questions and share their experiences. This creates a sense of community.
Customer service: Many reviews highlight CircuitMess's responsive customer support that helps resolve any issues.
Cons
Soldering difficulty: Some users say smaller components can be hard to solder, especially for total beginners. Soldering has a learning curve.
Programming challenges: A few customers felt that while the coding interface is beginner-friendly, more advanced programming functions are limited.
Delivery issues: Sporadic complaints about delayed or missing subscription boxes. This appears to be rare though.
While minor critiques exist, most reviewers find the overall educational value and quality of the kits excellent. It is safe to say in this CircuitMess review that the hands-on experience seems to outweigh any cons for most users.
Who Are CircuitMess Products For?
CircuitMess aims to offer STEM learning experiences tailored for users across age groups and skill levels. Here's a breakdown of who their kits cater to:
Young Learners
The Wacky Robots subscription targets the 9-11 age range. These kits teach the basics of electronics, engineering, and programming through building gadgets. CircuitMess notes the kits are designed to precede more advanced robotics platforms like Lego Mindstorms.
Older Children & Adults
The STEM Box caters to users 11 and up. Both older children and adults benefit from the more complex projects in this subscription. The DIY kits offer hands-on learning for both novices and more seasoned makers looking to expand their skills.
Programming Beginners
The block-based coding platform allows complete beginners to write their first lines of code. This provides a smooth on-ramp to embedded programming concepts. Users then graduate to text-based coding for microcontrollers like Arduino.
Electronics Hobbyists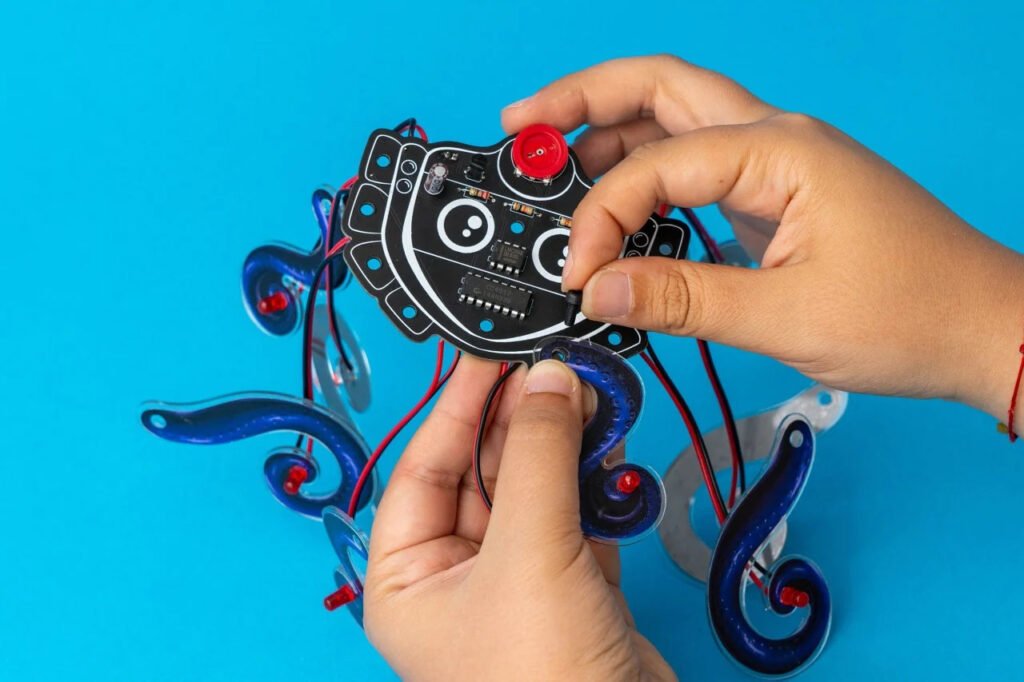 Those who already have experience with electronics can further enhance their skills through CircuitMess kits. The DIY gadgets enable you to learn new concepts like AI, digital music, and gaming applications of electronics principles.
Overall, this brand offers something for curious minds of all ages and backgrounds. We can confidently say in this CircuitMess review that their kits meet you at your skill level and progress as you learn.
How CircuitMess Compares to Other STEM Kits
CircuitMess isn't the only provider of STEM learning kits. Brands like KiwiCo, Mel Science, and Creation Crate offer similar DIY educational experiences. How does CircuitMess stack up against these alternatives?
Mel Science offers exciting chemistry kits that allow kids to safely conduct experiments at home. While fun and engaging, the focus is specifically on chemistry.
KiwiCo provides a vast array of STEM crates but their projects tend to have a crafts/activity kit angle. The emphasis is more on hands-on fun than electronics and coding skills specifically.
Creation Crate comes closest to CircuitMess's technology focus. Their IoT and robotics kits teach coding and electronics through building smart devices. However, Creation Crate's target demographic skews younger (ages 5-12). Their kits tend to have less complexity compared to CircuitMess's more advanced projects.
What sets CircuitMess apart is the focus directly on building electronic gadgets while learning coding skills in tandem. Their DIY philosophy aims to demystify technology by letting users create it themselves from the ground up. This applied learning approach is unique and highly educational.
CircuitMess Review: Conclusion
In the end, CircuitMess delivers an exciting and educational experience with their electronics and coding kits. Users of all ages get to build cool, functional gadgets as they develop valuable future-focused STEM skills.
The DIY kits represent an investment in learning. However, the hands-on process ensures difficult concepts stick. There's also a great sense of reward in acquiring new technical abilities and creating your own devices.
Of course, the kits present challenges too. Developing skills like soldering and coding takes commitment and patience. However, the CircuitMess community offers ample support. The knowledge gained in the process is well worth any initial struggles for most.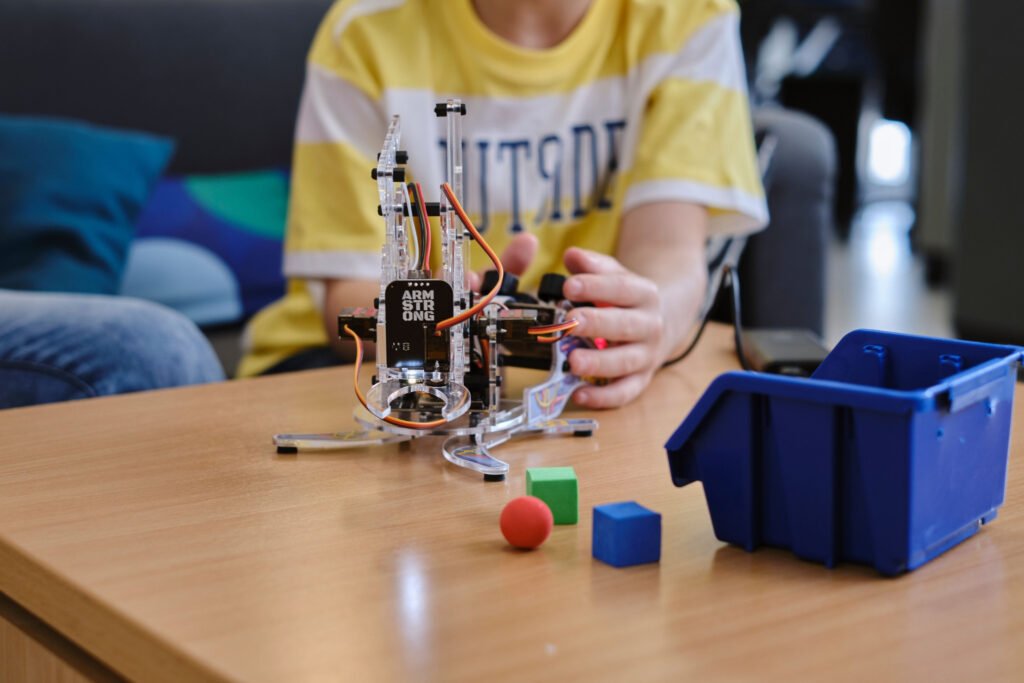 For curious minds and budding techies, CircuitMess opens up a world of hands-on learning and innovation. The kits provide screen-free fun that sets users up for future success with in-demand skills.
So if you're looking for an engaging way to develop electronics understanding and programming abilities, CircuitMess delivers. Be sure to check out circuitmess.com and take advantage of the latest CircuitMess coupon codes for the greatest value. The right kit can open the door to a lifelong passion for technology.