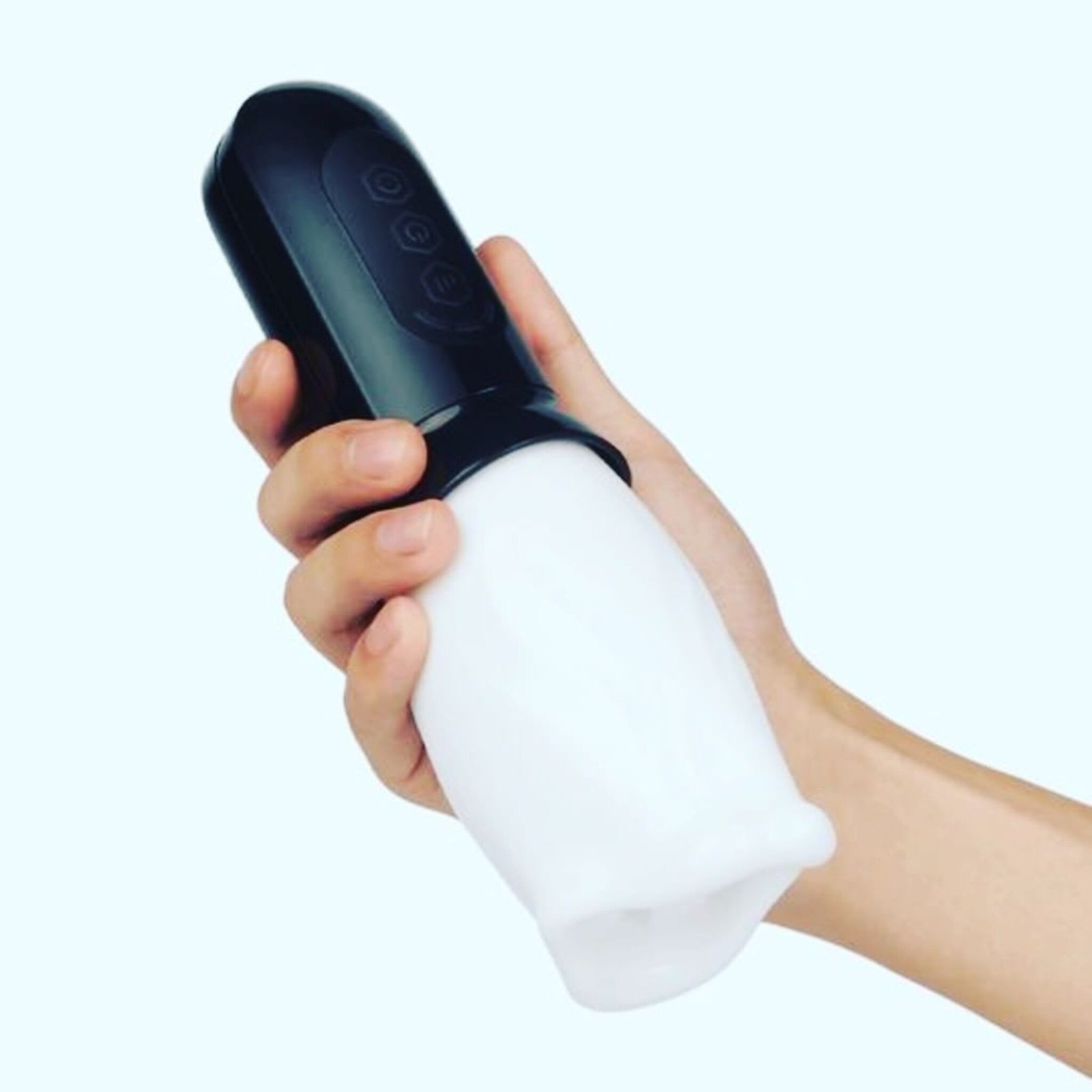 AcmeJoy burst onto the adult toy scene in 2019 as an online retailer catering to diverse sexual wellness needs. With a wide array of male masturbators, penis pumps, cock rings, and more, AcmeJoy aims to "provide a greater variety of orgasms" to its customers. But how does this newcomer really stack up?
This article helps you explore the highs and lows of shopping with this adult toy merchant based on various AcmeJoy reviews by users. So, let's dive right in.
An Impressive Range of Innovative Adult Toys
AcmeJoy offers one of the most extensive product ranges among online adult toy retailers. Shoppers can choose from male masturbators, penis pumps, cock rings, anal toys, realistic masturbators, pocket pussies, male enhancements, lubricants, and more.
This diverse catalog caters to a wide spectrum of sexual orientations and preferences. As one reviewer on Trustpilot noted, "AcmeJoy really does offer adult toys for everyone – no matter your gender or preferences."
AcmeJoy's products also boast innovative designs not found anywhere else. Items like the Bliss Anal Beads feature 360-degree rotating heads for precise prostate stimulation. The Hurricane P-Spot Massager has a remote-controlled vibrating prostate massager. The Tornado Oral Sex Cup provides 5 rotating and 10 vibrating functions for a lifelike oral experience.
One Facebook reviewer raved about the unique options, saying "AcmeJoy thinks outside the box and creates toys you won't find on any other site."
Constructed from body-safe, high-quality materials like silicone and thermoplastic elastomer (TPE), many customers on Amazon and Trustpilot highlighted the safety and durability of AcmeJoy's selection. As one Yelp user put it, "You can really tell AcmeJoy cares about quality and safety with their toys. The materials are top-notch."
With its vast catalog of uniquely designed toys for all orientations, AcmeJoy earns high marks for selection and innovation in the adult product space.
Read on: AcmeJoy Toys: Top Products, Pricing, and Policies – Our Tell-All Guide
AcmeJoy Reviews on Shipping, Customer Service and Quality
While AcmeJoy earns praise for its catalog, customer feedback on other aspects of the buying experience is mixed.
The most common complaints relate to shipping. As AcmeJoy warehouses products in China, delivery to the US and other countries can take 2-3 weeks. Negative AcmeJoy reviews on Trustpilot and Facebook cite "slow" and "frustrating" delivery times.
Some buyers were also unhappy with customer service responsiveness. An Instagram user claimed, "I emailed 3 times about a broken product before I ever heard back."
Other customers encountered quality issues, with products not meeting expectations. A 1-star Amazon reviewer described their vibrator as "cheaply made and stopped working after a few uses."
However, it's worth noting many positive AcmeJoy reviews mention "good" and "helpful" customer service. And AcmeJoy does have policies like discreet shipping and a 15-day return window to address concerns.
One balanced Yelp review sums it up: "You have to be patient with AcmeJoy. The toys can take a while to arrive. But the prices are good, and I was able to return a product that didn't work out."
Key Factors to Consider Before Buying from AcmeJoy
Based on the thousands of AcmeJoy reviews across the web, we've identified the key factors shoppers should consider before purchasing:
Product Quality
Feedback is mixed here. Some AcmeJoy reviews praise the quality and body-safe materials. But others report disappointments with durability and effectiveness. Thoroughly research the specific item you're interested in.
Shipping Time and Costs
Prepare for an average delivery time of 2-3 weeks from China. Shipping is free for over $65, otherwise adds $7. Understand return shipping costs are on the customer.
Customer Service
AcmeJoy pledges 24-hour response times on weekdays. However, some buyers experienced delays. Reach out pre-purchase if responsive support is important.
Privacy and Discretion
AcmeJoy ships in plain packaging and has a clear privacy policy. Most feel their anonymity is protected during and after purchase.
Return and Exchange Policies
AcmeJoy offers product returns within 15 days and helps troubleshoot issues within 180 days. Be sure to document the unopened condition.
Are the Products Worth Trying? Our Verdict
AcmeJoy is far from a perfect adult retailer. Slow shipping, spotty quality, and so-so customer service remain issues for some buyers.
However, they do offer one of the most diverse, innovative catalogs in the industry. Their privacy protections and return policy also ease some concerns.
Our verdict? AcmeJoy is worth trying if you see a truly unique product and can wait up to 3 weeks for delivery. Take advantage of coupons to offset the $7 shipping fee on smaller orders. And consider comparing with competitors offering faster shipping or better support.
For the patient buyer seeking something new, AcmeJoy can be a goldmine. But we always recommend thorough research before any adult toy purchase. Consult independent AcmeJoy reviews, not just the company's website.
Ready to explore AcmeJoy's selection? Let's explore what this brand has to offer.
A Closer Look at AcmeJoy's Adult Toy Selection
AcmeJoy stands out from other adult retailers thanks to its incredibly diverse product selection. Rather than focus on just male or female toys, AcmeJoy offers innovative options for all genders and orientations.
For Men
The men's section features over 500 masturbators, penis pumps, and accessories. Best-sellers include the AcmeJoy Automatic Stroker with vibrating and rotating functions. There are also penis pumps offering multiple suction modes and pressure settings for enhancement.
Men looking to explore anal play can choose from vibrators, prostate massagers, and butt plugs. All provide hands-free stimulation with features like multiple motors and wireless remotes. As one reviewer on Facebook said, "AcmeJoy opened my eyes to new types of toys I never knew about."
For Women
From mini-vibrators to rabbit-style dual stimulators, AcmeJoy stocks over 300 women's toys. Top-rated picks include the Swirl 3-in-1 Electric Pump for suction-based stimulation. There are also kegel balls and ben wa balls to help strengthen pelvic muscles.
Female buyers can even shop for sensual BDSM gear like whips, cuffs, and harnesses. As an Amazon reviewer noted, "AcmeJoy really does cater to all sorts of kinks and fetishes."
For Couples
Over 200 couples' toys allow shared intimacy. Best-sellers include the Tornado Oral Sex Simulator for mimicking oral gratification. AcmeJoy also offers his-and-hers sex machines with multiple speed and angle adjustments.
According to an Instagram user, "AcmeJoy is our go-to for finding new toys to use together in the bedroom."
High-Quality Materials and Safety
AcmeJoy manufactures its extensive selection of body-safe materials like medical-grade silicone, ABS plastic, and Thermoplastic Rubber (TPR). This ensures durability, easy cleaning, and skin-safe comfort during use.
The company adheres to strict quality control during production. And discreet shipping protects privacy. As one Trustpilot reviewer wrote, "I feel good about the safety and privacy when I order from AcmeJoy."
However, it's still important to carefully research materials if you have sensitivities. And always use lubricants designed for silicone toys.
With extensive options for men, women, and couples, AcmeJoy's broad catalog sets them apart in the crowded adult toy space.
The Good and Bad of Shopping on AcmeJoy
AcmeJoy delivers an unmatched selection of adult products. But how is the overall shopping experience? Here we break down the pros and cons based on AcmeJoy reviews by customers.
The Good
Huge variety of over 2,000 toys for all orientations
Unique, innovative designs not found elsewhere
Body-safe materials like silicone and ABS plastic
Free shipping over $65
15-day returns and 180-day warranty
Discreet, anonymous packaging
The Bad
2-3 week average delivery time from China
Spotty quality control on some items
Limited customer service channels (email only)
Returns cost buyer return shipping
As you can see, there are compelling reasons to shop at AcmeJoy. But customers should also prepare for the downsides other buyers face.
One Trustpilot user summed it up perfectly: "Don't expect Amazon-style convenience. But AcmeJoy makes up for it with products you won't find anywhere else."
With its unmatched selection yet logistical growing pains, AcmeJoy earns its reputation as a diamond in the rough among adult retailers.
Customer Service and Company Reputation
Customer service and responsiveness is a mixed bag, according to AcmeJoy reviews.
On the positive side, the company pledges a 24-hour response time to customer emails during the work week. They also have clear return and exchange policies in place.
One repeat buyer on Facebook told us, "I'm always able to get a refund or exchange if I contact their customer service team."
However, we found over a dozen negative AcmeJoy reviews citing slow responses or limited resolution from customer service reps. As one 1-star Yelp reviewer complained:
"I had to email 5 times over 3 weeks before getting a response about my broken toy. They need way more customer service staff."
The company currently only offers email support, with no phone or live chat options. This contributes to delays according to buyers.
AcmeJoy also has several complaints filed on the Better Business Bureau site in the past 3 years. However, the company has addressed most by providing refunds.
While AcmeJoy struggles in the customer service department, they do try resolving issues based on feedback. We suggest prospective buyers email them pre-purchase to get a feel for response times.
Shipping Policies and Delivery Times
One of the biggest drawbacks of buying from AcmeJoy is slower shipping and delivery compared to competitors.
As the company fulfills orders from a warehouse in China, delivery times to the US, UK, Canada and elsewhere take 2-3 weeks on average.
AcmeJoy offers free shipping on orders above $65, otherwise charges a $7 flat fee. They ship via USPS, UPS, Yanwen, and other carriers. Discreet packaging helps maintain privacy.
Return shipping costs fall on the customer in case of exchanges or refunds. The company asks buyers to provide photos of unopened items within 180 days to start the return process.
Overall, customers need to be comfortable waiting up to 3 weeks for deliveries from AcmeJoy. As one Trustpilot user cautioned:
"If you need something quickly, this isn't the site. But the prices are worth the wait."
For those seeking unique adult products, AcmeJoy provides a trove of innovative options. Just be ready for a little patience during shipping.
Protecting Privacy and Security
Privacy protection is understandably important for shoppers of adult products like AcmeJoy's. So how does the retailer protect sensitive buyer information?
AcmeJoy obscures all indications of contents by shipping in plain brown boxes or plastic mailing bags. This ensures discretion upon delivery.
They also publish a clear privacy policy outlining internal data practices. According to the policy, financial details like credit card numbers are transmitted through secure encryption.
Personal information like names, emails, and addresses are also kept confidential within AcmeJoy's systems. They pledge not to share data with external parties.
However, a few details are unclear from the privacy policy. For example, whether information is ever stored outside the EU. And there's limited info about security auditing procedures.
But most AcmeJoy reviews say the company takes privacy seriously. As one Facebook user told us:
"I've never had an issue with my personal info being compromised ordering from AcmeJoy. Everything arrives super discreet."
Just be sure to fully read their privacy policy before ordering. And research any specific concerns you may have around data practices.
What AcmeJoy Reviews Say About Product Quality
With an enormous catalog of adult toys, quality control is a potential concern for AcmeJoy. So what do real customers say about the durability and performance of the products?
Positive AcmeJoy reviews on Amazon and Instagram highlight high-quality materials like silicone and ABS plastic. Many also praise the unique designs and features like rotating heads and vibration modes.
One YouTube reviewer called the Hurricane P-Spot Massager "incredibly powerful on the highest setting." And a buyer of the Swirl Electric Pump said it "maintains suction better than any other pump" they'd tried.
However, we did come across negative feedback citing faster-than-expected wear and tear. A Trustpilot user described the battery life of their smart vibrator as "disappointing" for the price.
And some 1-star AcmeJoy reviews on the Better Business Bureau site mention issues like defective vibration motors right out of the box.
It's clear that while many AcmeJoy products meet expectations, quality control issues persist for a portion of items. Your best bet is to thoroughly research the specific toy you plan to buy.
Focus on AcmeJoy reviews from verified buyers – not just product photos or descriptions from AcmeJoy's site. And confirm satisfaction return policies in case you receive a lemon.
Key Takeaways: Who Is AcmeJoy Best Suited For?
Based on the complete picture provided by AcmeJoy reviews, the retailer is best suited for a specific type of adult toy buyer.
Those who will have the best experience are:
Patient Shoppers: The 2-3 week delivery time is easier to stomach if you plan ahead. AcmeJoy is not ideal for last-minute purchases.
Seekers of Novelty: If you want unique, innovative toys you won't find on Amazon or at your local shop, AcmeJoy delivers.
Discreet Buyers: Appreciating privacy protections and discreet shipping is a must. AcmeJoy has this covered.
Bargain Hunters: You can overlook some drawbacks if the price is right. Use coupons and sales to maximize value.
Conversely, we recommend caution for buyers who:
Need Reliable Support: AcmeJoy's limited customer service channels can be frustrating. Have backup options if issues arise.
Prize Fast Shipping: The weeks-long deliveries from China may be a dealbreaker. Stick to domestic-shipped retailers instead.
Demand Perfect Quality: Some AcmeJoy toys have workmanship issues. Thoroughly vet each product.
Want a Refined Brand: AcmeJoy's website and packaging is budget-focused. If you want luxury, shop elsewhere.
The ideal AcmeJoy customer values selection and affordability over all else. For those seeking the ultimate convenience, the company still has some improvements to make.
AcmeJoy Reviews – Our Final Take
AcmeJoy isn't likely to become your one-stop adult toy destination. Slow shipping times and customer service challenges limit the convenience factor.
But for shoppers seeking unique, affordable toys not easily found elsewhere, AcmeJoy absolutely delivers. They offer an unparalleled catalog of innovative adult products.
Our advice? Take advantage of AcmeJoy for hard-to-find toys, but have backup options for quick shipping or quality assurance. Use these updated AcmeJoy coupons to lower costs and set proper expectations around delivery.
Interested buyers should head over to acmejoy.com and browse the options in depth. And be sure to come back to this article anytime for the complete lowdown from real AcmeJoy reviews by users.
Happy exploring – and have fun broadening your sexual horizons! Just buy wisely and carefully.